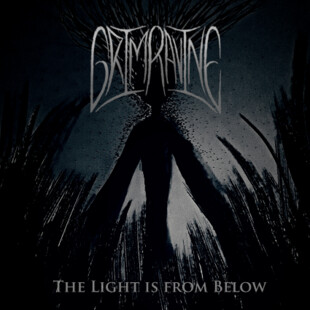 From Portsmouth, here's a new name to add to the burgeoning cauldron of the UK doom underground, another brought to our attention by Black Bow records, their noble raison d'être to promote bands of their ilk and bolster the scene gathering pace impressively.
This is thick coated doom, the violent sounds of mourning souls escaping through the portal to hell. Shrine of Misery sets the scene; heavily fuzzed guitars lurch onwards, never with precipitance, but with a vague stoner sense of melody keeping it ticking over, a movement above and beyond the most extreme excesses of doom trudgery. While still grim as fuck, there's a more instantaneous appreciation, and a wider audience that will fall into their spell as a result.
A release from the bloodshed is offered by the intermission of Translunary, a ghostly whisper carried through on the wind. Hypernova dives back in, closer links to a direct sludge line of EyeHateGod, although maybe more pertinantly that of Thou or the frazzled minds of Rwake. It isn't simple heads down, riffs out, plagiarism of the New Orleans originators though, Grim Ravine offering enough originality and variance to really keep your attention. The thirteen minutes of closing Vacant Mass are a lumbering excavation of a darkened pit, a repetitiveness that painstakingly rolls you under its tracks, cloaked and hammered down, like a doped Lord Mantis or Indian.
Whether directly or not, I'd hazard they've taken in a lot from their Southern neighbours in Grey Widow and Sea Bastard in the ability to create a sound that reverberates with an ever present menace. The result is an album that closes in around you, a base mix of doom and sludge at its core but with an engorging cloud of darkness that ensures you're keyed in, taken in for the ride. Allied to a fair heft, there's a fair chance this is what you'll be looking for in sludge in these times, and even if not, you may have no choice but to submit.