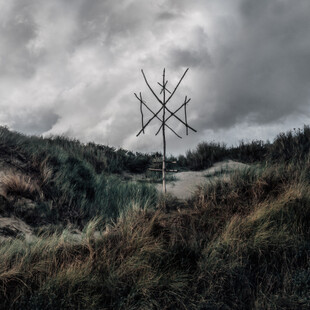 That Wiegedood's debut of 2015 was a preeminent example of modern metal brilliance came as no surprise, a side-project as they are of members of various bands, all from the zeitgeist of the Belgian extreme - Amenra, Oathbreaker and Rise and Fall. Yet even armed with that knowledge it raised eyebrows and an instant legion of admirers, the power of tracks like Kwaad Bloed thudding into your chest, knocking you back with a pure intensity. Their return, presumably their own sense of unfinished business as attested to by the continuation of album title and artwork (their logo simply upsticked from field to grassy dune), is hotly anticpiated.
As before, this is a compact four track release. The first, Ontzielling instantly tractor-beams you into their world, head, mind and soul, once more, as if they've continued straight off. This is bewildering atmospheric black metal, chokingly full of ferocious might and yet capable of terraforming landscapes in your imagination. There's a melodicism, not separated as with some of the post-black metal crowd in post-rock architecture, but deeply routed beneath the harsh vocals and riffs. Few do this any better.
You can diagnose the inputs into the Wiegedood whole, particularly on Cataract and the title track, tell tale signs of Oathbreaker's recent post-hardcore leanings or the epic post metal of Amenra, an amalgamation of serious talent that is seemlessly jigsawed into a new cover-picture. Smeekbede is more direct, a beefier sound that lends a doomish rumble unlike before, latter on akin to the smothering blackened hardcore of Hexis. It ends with twenty or so seconds of screams from deep in the throat, right into your lughole, leaving you in no uncertainty over the intense energy they have just expended, and put you through.
Oathbreaker's Rheia was ubiquetous in recent end of year lists for 2016, Wiegedood's debut the year before, Amenra ran Neurosis close when I saw them live together in 2014, and all have sturdy discographies going back further. This pact, this Belgian cabale of extreme metal visionaries conquer wherever they go. And now this, De Doen Hebben Het Goed II, which I'm set to listen to over and over for all of 2017.