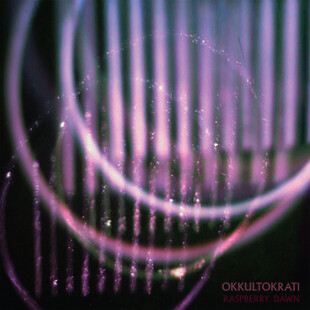 I've had a musical crush on Okkultokrati for several years now, their early work a charging fire in my gut when I need energy or impetus. Their recent output has been a let down though, whether in quality or simply by drifting away from my base musical desires. The wise old sages at Southern Lord have signed them up, reissuing their last two albums, at odds with the best of their back catalogue (Snakereigns was fine, but inferior, while Night Jerks just didn't register), but I still hold high hopes for this, their debut new material for the label.
They've taken on a permanent synth addition, but the first couple of tracks are of similar ilk to recent output, drunken and slurringly abusive punk heroes holding court and spilling beers with grand swipes of gesticulation, a sleazy tone of Iggy infestion; the Supersuckers in corpse paint.
The synth then starts to take hold from We Love You, and while you don't immediatly realise it, Okkultokrati take a massive side step in style and outlook from there on in. The overall aura is of 80s post punk new wave, albeit with a Darkthrone grit, but it's a strange atmosphere. If they made an alternative blunt Stranger Things soundtrack, this wouldn't be out of place. I hear nods to Joy Division, vague early industrial of Ministry, the surprise of Beastmilk's odd entrance into the metal periphery a few years back.
The discomfort though arrives not from disorientation but that it just isn't that great. It's all a bit over the place, an uncomfortable amalgam of jarring style and unwieldy ambition. There maintains a metallic leading edge of course, and the direction is bold, but there's just not enough quality.
The exception, brightly, stunningly, is Hard to Please, Easy to Kill, where it all suddenly comes together and makes sense, everything in their armoury to this point blended with their new angle; the contrasts layered, sprites of energy exploding to the light. It's fantastic.
They've moved more away from the black thunder of Ingen Veit Alt or No Light For Mass than ever before... I'm in two minds on this outcome, as their early work is a collection I still dip into to this day I'm thus uninpartial, and it is hard to be too critical of their evolvement as it feels a natural process taking place towards their creative, different urges. But that pang of disappointment, the deflation that this band I'd imagined could take over the world with black metal punk hybrid bruised ribs and black eyes has deviated from the path in my mind, remains. More of Hard to Kill...'s shining quality and vision and they'll have create an album of genius one day. Okkultokrati, always with the hope.