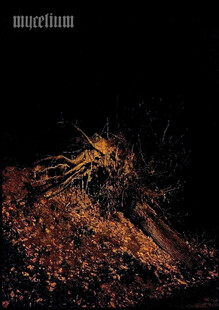 Mycelium is the black metal solo project of constantly creative and selfless label owner Sam Bloxsidge. Sam runs the excellent Vetala Productions, which harbours a lot of UK talent and has released an epic stream of tapes and records in its short lifespan. Disclaimer time, they've put out my own band's split tape, so take my review with as much salt as it needs.
Onto Mycelium, Sam's tentative introduction to his darker psyche comes in the form of a tape that's out towards the end of the month and it chimes with a primitive, ambient feel.
Shimmering with layers of blackened guitar and constant, swirling percussion it lifts off pretty quickly into depressive, aching realms that the genre knows so well. The churning guitars are recorded in a somewhat compressed fashion, adding to the depressive feel overall. The programmed drums crack a fizzle below all of this with a surprisingly solid and realistic feel. Sometimes bedroom BM can feel like being run over with an army of mechanical insects when it comes to drums, but this is subtle enough not to grate and create headaches.
The two, ten-minute journeys here are peppered with noise, particularly in second cut Sea of Broken Glass which combines field recordings with a harsh buzz and a single guitar line washing together to create a bleak and desolate landscape in which to hide for a while. The bleakness grows throughout this track, culminating in a rich but spiky tapestry that suggests misery and sorrow in heaps.
Something to put on if you need to vent or just wallow for a while, it's certainly something that rises above the usual hobbyist bedroom BM we're sent on a regular basis.