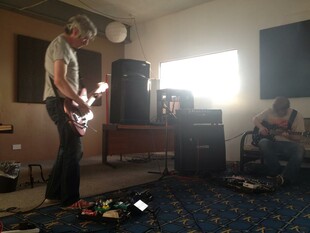 When I learned the title of this EP, the image that came to mind was that of Goya's 'Saturn Devouring His Son' – a figure wearing a blunt expression of pure, unknowable madness, eyes panicked and sunken with the horror of the titular act he is committing.
Thankfully, although Sheffield's Skyligers sing of aching, of breaking, of anguish and uncertainty, their music starkly contrasts with the haunted artwork and instead reflects a deep sense of beauty and fragility, both inwardly and outwardly.
Skyligers will undoubtedly come to represent a masterful balance of instrumentation. I cannot stress enough how well-constructed and controlled the six songs on this debut are, or how instinctive the band is in sacrificing the spotlight of any one member. The rhythm section of Stephen Wallace and Joe Warrington are inseparable in their melodic, considered and textural style of playing. They display a natural ability to identify and compliment any hollower frequencies, acting as a seamless, driving accompaniment to the spirit-level balance of guitarists Ian Fallon and Jonathan Spate, whose ethereal, interlocking and often heart-breaking melodies are sure to warm as many cockles as the spines they'll be tingling.
The once instrumental group have found a charismatic and compelling voice in belly-dancer Ferret, who effortlessly assimilated into the band and now fits perfectly between the simultaneously calming and invigorating music that surrounds her.
She propels sections of Maybe One Day… with a genuinely overwhelming performance, overdubs gorgeously delicate harmonies onto Filters of Flesh, and even compliments the energetic soundscape of Freon with her zills (Turkish finger-cymbals which are traditionally used to accompany belly-dancing performances). Drawing from experience, the emotion in her voice is incredibly real, and she's moved me to tears on almost every listen.
The sense of communication between the players and the listener is tangible; the graceful sequencing of the EP begins with the dynamic and entirely natural quintuplet swing of Antinoun, and ends with the climactic, dance-able and ultimately earnest epic – the aforementioned Freon, a highlight amongst highlights. The rich production allows the listener to get truly lost in constantly shifting moods whilst the lyrical content paints wildly different pictures. Skyligers aren't afraid to intensify their dynamics when the moment is right; Toxic Sciamachy captures their combined idiosyncrasies with an off-kilter stomp, while Now She Knows builds to a visceral, multi-vocal peak from incredibly humble beginnings.
With Devouring The Sun, Skyligers have unleashed an almost unequalled debut release. I wanted to avoid band comparisons so as not to discredit the group's individuality, but fans of post-rock, space rock, progressive rock or even pure, unadulterated pop music shouldn't hesitate at the chance to listen. The level of memorable, infectious and deeply considered song-writing is matched only by the restraint shown by the individual musicians, which allows them to shine together as one blistering sun: a smouldering cosmic giant I can't imagine ever being devoured.