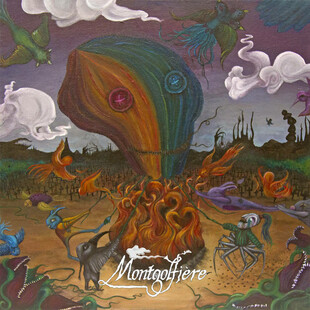 An email alerting me to Montgolfiere's debut album release appeared last week. Apparently I'd enabled this message a year ago in case of such eventuality. Not remembering the band name, never mind their music, I checked in, and am relieved to discover that a year-younger Pete seems to have had good taste and foresight. This is a bewitching slice of Swedish psychedelia.
Montgolfiere play whimsical rock with a touch of proggy experimentation, less a dense trip into kaleidoscopic galaxies and more an early summer dance through overgrown fields. It is a congenial experience to sit through, lightening the darkest of moods, and when the end of the penultimate track Ghosts of the Wild blossoms, it is truly uplifting in its enchantingly beautiful manner. I've had this song on repeat seemingly ever since.
That progressive element is delicately applied and, on tracks such as Ikaros, melts into a soothing loungey dream; Brant Bjork's early euphonic albums a simile, a faint whiff of a stoner vibe. The switch between the bi-gender vocals and the folky vibe remind me of Crumbling Ghost here and there too.
An album to calm the soul, to dream away, to recharge and to smile along with.