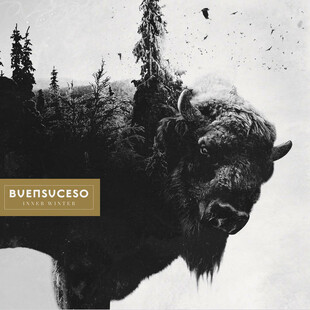 We're used to curveballs here at ninehertz, we've been listening to unsolicited demos, albums, tracks and compilations for years. It leads to often fantastic things and opens your mind to the otherwise ignored or undervalued. This release by Spanish experimentalists Buensucesco falls into this territory.
Brash and uncanny from the moment it starts, its spindly constructions enchant immediately. Detuned keys and strange bass-led structures combine with a drummer keen on exploring alone across delayed timings and unorthodox beats. This lends it a haunted house feel, music slightly geared to the weird ear.
When it all comes crashing together, it sounds not unlike Russian Circles gone less uniform. Post rock is undeniably at work under the surface but there's also a great prog influence at play underneath too. When they open up to the genre's tropes (big crescendos and tremelo picking) they sound truly majestic. Elsewhere they sound awkward and fastened together less meticulously. However this is what makes it such an engaging listen. Free of the trappings of cliche, these Spaniards certainly make a case for sticking to ideas that might frighten the more meek band.
Recorded in 2014, these recordings were released by Third Eye Rex back in January. Don't let those two years put you off, this is special stuff. It sounds huge and rips the throat out of a lot of piddly post rock that claims heavy influences by simply steamrollering the competition. Use of subtle keys in certain places also brings it to further levels of awesomeness.
Heck, Waiting For Deliverance even throws in a little brass towards the end. Can you spell 'ambitious'? Because these guys have written it large and need you to read that.