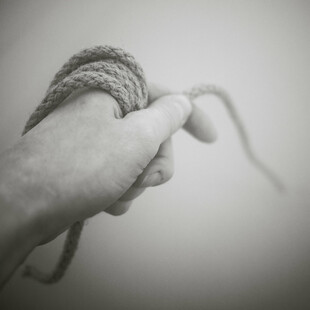 Shared wax between two of the more promising bands from our national doom scene, each possessing different and distinct angles on the sound. There's plenty to get excited about here.
Torpor lead off, exhibiting their synonymous sumptuous doom tone on Jasager. An elongated minimal middle period, occupied by ugly screeches in the dark, creates an uncomfortable claustrophobic feeling, like being the only other person on a late night train carriage where a lunatic is shouting at the seats. This turns into battering ram riff largess, ending a fierce and fantastic opening.
Environs takes an ambient turn, a gothic dream floating across fields. It is the yin to the following Agalma's yang, as a deafening, deathly riff greets you, dredged from the bottom of the ocean. It's so cavernous you wonder whether the track with be swallowed by it's presence. But Torpor display their increasingly obvious class, not content to rest on the riff as would have been their doom right, building out from the start in stunning directions. This is mesmeric.
The clean guitar sound that greets the change of sides serves as an obvious distinction between the bands. Sonance operate on a different wavelength to the majority of the modern trend, with post rock and psychish industrial tinges as important as the darkened doom, their Blackflower album moving from sixteen minute ambience to almost black-tinged doom thrashes track to track. On End Your Life they amalgamate their influences into a single movement, the outcome as such arguably their most thrilling to date, venomous to its heavy end.
Under and Under is similarly bleak, an enormous sound boldly devastating, especially towards it's crushing end. Capes concludes, a nine-minute unrelenting post metal instrumental soundscape.
My expectations leading into this were high, but they now appear positively pessimistic, such is the infectiousness, the corruptive darkness; the quality gripping you throughout. This split 12" will keep you up at night, transfixed within their modern post-metal/doom utopia. Neither band has sounded better to these ears, both on upwards trajectories with sights on grand horizons.