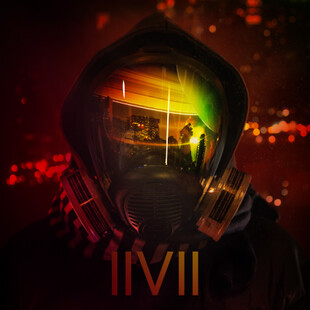 Josh Graham is an interesting character, guitarist and multi-talented artist, he's been a founding member of the excellent Red Sparowes, been Neurosis' visual artist of choice for years and has found time to record and perform in the excellent A Storm Of Light.
IIVII is his solo project, a science fiction-inspired piece of calm that he claims sets against the sonic bombast of A Storm Of Light. With some self-made artwork that reflects this theme on the cover, you can almost tell what this might sound like. Calm drones greet you as it opens, twinkling bells and chimes eventually take centre stage and the whole thing plays like Eno soundtracking a slow motion Mass Effect sequel.
Graham takes the space vibes to new places on the dreamy, yet focused Colliding Horizons which sounds like minimalists Growing if they met Zombi in an 80's games arcade. The pulsing phasers bring to mind trance-like dance music, but on a very scaled back stark level.
The pair of Transmissions tracks that take up the central part of the album seem to be more soundtrack-geared, with radio static and muffled voices sounding like we're earwigging on a cosmic event. The swirls of droning synths and crackling tones are much more strident and bass-driven here, giving it a menacing and truly other-worldly glow. Like a planet coming into view a bit too fast, or asteroids pressing down slowly onto metal spaceships, causing significant damage.
Some of the most satisfying buzzing synth noises ever committed to tape can be heard on the oozing, grand-sounding Black Galaxy which sounds like being engulfed by a whole horizon of darkness, static shocks filling every millimetre of your being and knowing the end is nigh.
Graham is here playing a God sim, creating a sandbox he is running free in. Someone sign this guy up for a videogame soundtrack, his understanding of sound as an atmospheric tool is excellent. With Colony he is painting in bright, galaxy-huge stripes, and it will eat you whole.