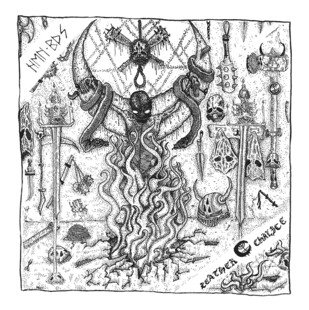 Autumn is in the air, that shrouded, cold feeling is back and each step taken out of the door chills you to the core. It's black metal season, after all, what's more kvlt than the death of summer and the coming of darkness?
Human Bodies and Leather Chalice have come together for this standard 300 black 7" release of music that is of anything but the norm. Human Bodies were born of a recording project which originally used programmed drums, but thankfully such behaviour has been eschewed in favour of a full band. Their half of this split is a depressive jaunt with hints of black and roll under its deathlike demeanour. With breakneck drums threatening to outspeed the rest of the band, HB have a rasping, blasting feel to them that means plenty is packed into their side of the record. With this much world-weary hate and fist-pumping righteousness, HB's side might be all you need to hear in terms of blackened, raging black metal this year.
But let's not forgoe the excellent Leather Chalice, although a one-man project, this side manages to sound like a full band. Fusing crusty punk with earnest and naive-sounding black metal, it's metallic without sounding po-faced and as a result harbours a malignant and putrid air. Percussion clatters against the tempo of the guitars at times and the detached vocals wail against this mismatch too, giving it a chaotic and punishing finality. The constant pummel of the misery this outfit seems to ooze is draining and fits the name and aesthetic that seems to be being strived for perfectly. Hold your leather chalice up, half full, half empty, the overall attitude seems to be 'who the fuck cares'?