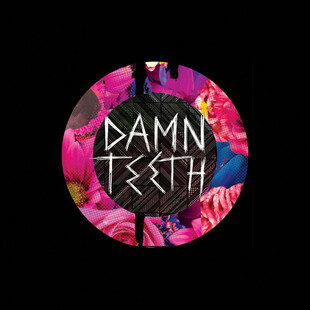 We love a band with a concept here at 9hz towers, especially when it's based on a medical condition.
Glasgow's Damn Teeth come shrieking and with a scratchy, nervous sound courtesy of vocalist Paul McArthur (ex-Thin Privilege, Salò) who was diagnosed with coital cephalalgia: sex headaches triggered by orgasm. This album explores the subsequent mental health and hypochondria that followed his unfortunate condition.
As you'd expect, it's pretty raw and desperate, and the combination of such a frenzied concept, some excellent vocal interplay between McArthur and Kate Stonestreet (also of Joanna Gruesome) places it somewhere between the ceaseless energy of The Locust and the grinding repetition and fuzz of Amphetamine Reptile dirges.
Something must be said too about the vocal style, Stonestreet seems to adopt a yowl not unlike the brash, hard-to-beat screams of Hanin Elias of Atari Teenage Riot. Delivered through what sounds like spiky fuzz effects, it clashes with the sassy and effective lyrics spat out by McArthur, capturing the situation of the pain/pleasure principle well.
The whole release feels claustrophobic and features cranium-bothering bursts of feedback it seems at random to unnerve and irritate in the name of sticking to the concept. This has the desired effect, any sense of calm is interrupted and the messy, jigsaw-puzzle like structure somehow fits and yet doesn't at the same time. It's not an easy listen, equally it's not one you'd want to absorb if you're feeling delicate. This is music as torture or release, like a scream in the silence. If McArthur and his band of noisemakers (which includes Stewart Allen of the excellent Black International on guitar) wanted to create headaches and general discomfort with this release, they've hit the nail on the head, driving it into bone and finding delicate brain tissue punctured.
Wonderfully executed, it's perhaps live where this will flourish, the wall of incredibly uncomfortable sound will no doubt clear venues and have promoters weighing up whether they pull the plug in fear. Fully fucking crazy.