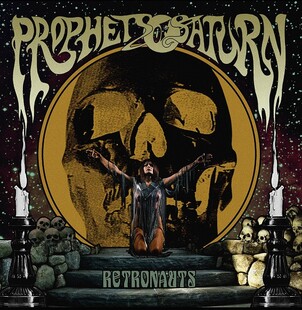 Images are evoked immediately when listening to Prophets of Saturn, of practice rooms resplendent with rugs, strewn with roach ends and a low hanging cloud of green fog. The production is so rough as to drown the psychedelia, something at once both innocently charming and in keeping, like they've spilt bong water in the walkman they brought along to record their acid spiked practice session, but also slightly maddening, making it hard to take as seriously as it might.
Beneath it, on the opening title track in particular, you detect swirling soloing of psych doom haze goodness, clouded in the feedback of intentional fuzz. Ultra Wizards has an air of fellow Leicester stoner heroes Josiah, and throughout you are taken back to the early bands of what was then still the stoner scene, and the British bands who flew the flag - Hangnail, (very) early Orange Goblin and at the heavier, doomier end the impression of the first couple of Electric Wizard albums.
Add in an influence from the pre-Dopes to Infinity era Monster Magnet, obligatory Hawkwind mentions and Pentagram worship and that gives a good shout towards giving an accurate impression. However, it's all a bit too raw, with bands like Baba Naga able to show a new British band can come along, sound out of their minds on a basket of drugs but still with clearer production to showcase their doomy talents.
In its attempts to pay respect to a 70s sound it somehow feels dated to the 90s due to a lack of influence from the intervening period; it's a tad basic throughout and with a sound blurred in smoke, grime and noise - and not all in a good way - Retronauts can be a bit hard work. Yet, somehow, it keeps you smiling throughout and manages to blow away most of the cynicism, transporting your mind to far away plains and memories of good times.