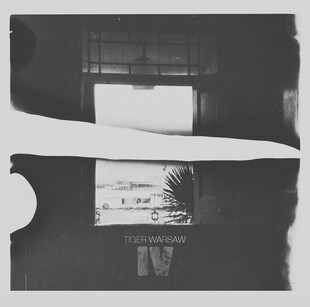 You can actually go back and read my annotated history of Tiger Warsaw since 2008. Every line still stands these days, I think they are genuinely a fascinating band.
Latest slab, IV is no less interesting but pulls off a tighter, smoother feel that's taken around two years to put together. This record has been drip-fed to audiences for a while, though it does still surprise on first listen.
A richer, fuller production gives off an air of confidence not there before, but still maintains that cool, slacker air they've maintained since day one.
Take the Sonic Youth gone surf dude stomp of Richest Dog in Town and its detached vocals for proof, it makes its presence felt without posturing.
The same can be said for the intricate Rats in the Screen Room which builds to a strange payoff in the form of bassist Tev's unsure and slightly off-key vocals. These are delivered at whispers before a combined crescendo with screams ends matters like an argument.
'Fuck you you prick, yer fuckin' shit' greets you before the excellent Steve is a Light. Here the experimentation that TW have opened themselves up to here comes to fruition, delicate little victories via delay pedals and crossing beams when it comes to the guitars results in an unusual and spindly interplay. The motorik drums also show more of a nuanced TW than we've been used to in the past. We've all grown up haven't we? This is a bit too real.
Oh that's better, Birthdays has echoes of earlier work, fast and loose and with some malevolence bubbling underneath. It's still delivered with a bit more style, even the spangly guitar solo that creeps in (guitarist Adam's WASP fascination made flesh?)
Closing with the hopeful-sounding Dear Mrs Travis there's hints of Torche here alongside the more tender moments of Pelican's output as influence. It's celebratory sounding without being trite.
Coming to the end, quicker than one imagines you might for a 20+ minute release, you have to take stock.
Apparently already favouring playing material written after these tracks were recorded, TW have always been an oddity, shaking off their own material and adopting a slash and burn approach when it comes to self-editing and appraisal.
Perhaps someone needs to tell them they are great again, here's me doing so. This is a step forward and shows just how much can be achieved with time to consider experimentation and individual contributions.
Tentative, yet confident.
How did you do that then Tiggly Wilkins?