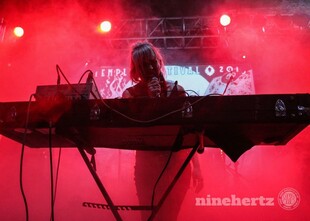 I'll dedicate my intro to our final day reviews of Temples to the organisers. This is as close to an impeccably run festival as is surely achievable, and bearing in mind it is done without any financial backers or sponsors it is an achievement to praise, and also cherish, as it feels like it belongs to us all, possibly the greatest compliment I can pay to the Temples team. The venue is perfectly suited, the security low key and friendly, the bars quick, toilets (up until the last day) relatively usable, the chill out spaces - especially the beer garden by the river - a great place to relax and share stories and even the food, restricted to wedges and crepes for us veggies, was tasty and served their job of soaking up excesses and sustaining energies.
The smoothness with which it runs (never mind put together which must be a year long job) is an amazing testament to incredible hard work behind the scenes that is done so dilligently you don't even think about it while there. Good work, and thank you to all... here's to 2016.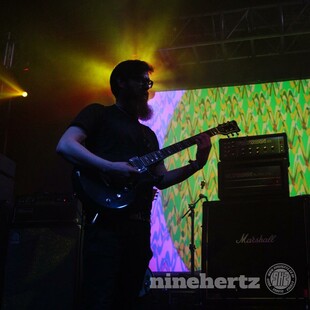 ANTA - Ok, the bass player still plays his bass just WRONG (gripping frets from above like he's folding giant paper aeroplanes) but let that minor distraction be forgotten. Psychedelic and mind-blowing, Anta are one of the deepest bands here in terms of pure, tripping delight. Their songs are imbued with a grove and motorik insistence and you'll probably be seeing them taking on larger crowds soon. We've seen them blow away audiences at three festivals now, so huge is their sound. (Mike)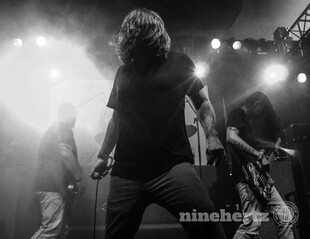 OHHMS - Ohhms are an oddity in terms of performance, gracing the grey area between feral belligerence and an epileptic attack, and it greatly amplifies the primal and chaotic nature of their music. At home on a stage large enough to run wild and free, the group focus their sound into monolithic and wonderfully memorable slabs of distortion, and do so with a confidence difficult to knock. Occasionally foraying into an amicable breed of heavy blues, the group further enforce their collective identity and leave the audience feeling like they've witnessed a band which is only at the beginning of its potential career. (Joe)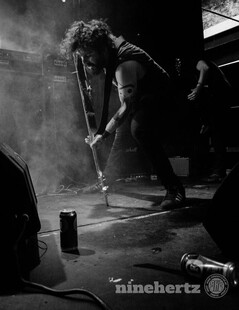 MONARCH! - I think Monarch! catch a lot of people out, they see the petite Emilie Bresson setting up her pedals and expect something ethereal.
Wrong.
Their reputation is for walls of amps and volume, Bresson looping her screams through banks of pedals. Once they spring forth with full force, the toms and snare hit you with surprising weight, meaning it's a physical as well as aural assault. The labouring of riffs doesn't ever give way and even as they draw to a close, you are still being shaken to oblivion. Truly heavy, they impress so many, it's hard to actually get past their merch desk straight after. (Mike)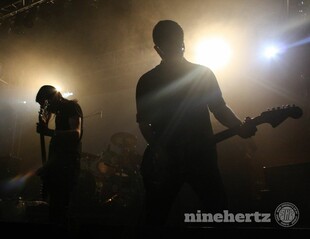 YEAR OF NO LIGHT - Having seen these chaps before on several occasions the noise that wrings forth is of no surprise. However, how they get to these points is astounding, where most instrumental bands will paddle along before breaking loose with some distortion, YONL do not rely on such frivolity, even at their quietest and least voluminous, they manage to whip up a dark atmosphere as they go. French, and sharing members with Monarch! they rival their predecessors for volume but explore less base sounds, preferring to pummel away at a higher state of being. (Mike)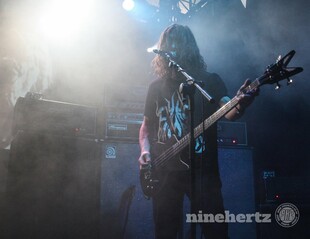 GHOLD - After success in telling everyone that Mantar would be the surprise package yesterday, Ghold are my tip to anyone who will listen on the Sunday. The southern duo operate neatly in and between varying doom styles on record, but the task of following Monarch! and Year of No Light, and filling the main stage and room for a two piece was a potential barrier. They largely succeed, through sheer volume, incredible swathes of powerful noise impressively pounding through the room. Some of their subtler moments are lost within this, dragging down some of the longer tracks, but on the whole they are a triumph. (Pete)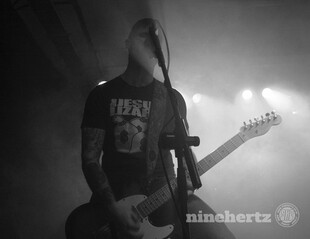 KEN MODE - KEN Mode are possibly another contender for band of the festival, why they are tucked away on the smaller stage 2 is a bit of a head scratcher, but never mind.
Songs come thick and fast as their angular and frightening metallic sound takes hold. Mention must go (as it must for every review) to guitarist and vocalist Jessie's 100-yard stare. When coupled with his bleak and chilling lyrics it's truly terrifying. KEN Mode continue to astound and really are one of metal's best kept secrets. They are so rapturously met with applause it's almost as if the crowd had forgotten Today Is The Day pulled out. Truly a force on stage, seek them out as an essential live experience. (Mike)
VOIVOD - Voivod bring a 'veteran' feel to the third stage, and carry a natural air of professionalism which likely comes with the years of experience between the members old and new. The crowd – a mix of young and old listeners united by a powerful shared interest – are clearly fanatical about the band, and the energy in the warehouse is electric, as though for many this was the band they had come to see. The current line-up are faultless in their delivery, but admittedly what most catches my eye is the Cardiacs shirt adorned by guitarist Dan Mongrain, who confidently plays his own material and that of the late Piggy with all of the frenzied precision and deranged hyperactivity that the wearing of such a shirt might encourage. (Joe)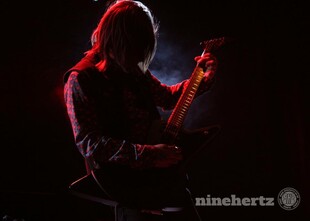 EARTH - One complaint, why didn't Temples provide bean bags for the Earth set? Aside from having to stand for such a chilled out band, full marks to the organisers for leaving its patrons with a totally suitable end to the weekend.
Earth live is such a euphoric experience they should prescribe it on the NHS.
Sure they've been hitting some repetitive strains on record in recent years but Carlson and co are a revelation live. People are draining their last few cans of the festival to the long, fuzzy and hug-like lethargy of the spaghetti western/Ennio Morricone soundtracks and Dylan Carlson is their slow-motion guitar hero. Ending with updated classic Ourobourous Is Broken is a nice touch too, reminding everyone there just how long the band have existed.
If Temples can make the next festival a week long, that'd be swell, cheers. (Mike)