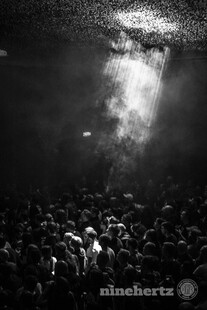 The morning after the night before... despite ringing ears and debilitating hangovers, the excitement is tangible from the moment we awake. With arguably the most exciting day's line up ahead of us, a Bristol breakfast and stroll in our stomachs and legs, we were really into the festival spirit now and headed to Motion early in the afternoon with a spring in our step. Even though I knew the quality ahead of me, looking back, I had no idea of the thrills, excitement and pure aural pleasure that lay in wait, a day of sets that will stick with me for the rest of my life.
CAINA - I've got a lot of time for Caina, the well spoken Andy Curtis-Brignell has come across admirably in interviews in the last year, but ultimately it all comes down to the music, and last years Setter of Unseen Snares thankfully merits the acclaim that came with it. He's added three members to the band to perform live, including a singer we all had our heads scratching about where we've seen before (Knife Crimes?). They are the perfect intro to day two, the ultimate hangover cure despite their metallic assault. Live they're as much hardcore, with industrial tinges, as the overarching black metal appeal on record, but no lesser as a result. It's engrossing material and the lively delivery captivates me throughout. Simply brilliant from start to finish, they prove to be an impeccable start to what turns out to be one of the best music days of my life, and one of the high highlights of the weekend. (Pete)
IMPETUOUS RITUAL - Impetuous Ritual open the second stage and immediately set a contrasting tone to Friday. The house lights are off and the spike-adorned death metallers are drenched in red backlighting, casting suitably menacing and uncanny silhouettes. The music is intentionally obscured by the group's use of distortion and tuning, and is inescapably comparable to fellow countrymen and tour buddies Portal. The same Lovecraftian nightmare is realised here, but is far subtler in performance and is best established in the frequent murky instrumental breaks. Between these, however, the otherworldly oppressiveness is occasionally lifted by some recognizable death metal tropes. (Joe)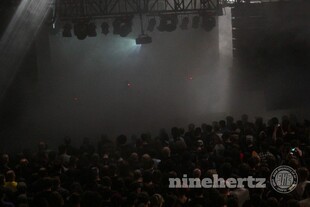 CELESTE - Ever since the line up was announced, Celeste were one of the bands I was most looking forward to. Intense French blackened hardcore isn't my normal cup of tea (or at least wasn't), but there's something about them - the imagery, the intensity - and when I'm in the mood they're irresistible. Nothing, not owning all their albums nor the buzz generated by Caina before them could prepare me for what came though. Onstage all in black waiting for their start, the stage, and then half the main room was engulfed in dry ice. As they started to play, still masked by smoke, red headlights appeared on all three guitarists, and when they launched into a riff, with their heads nodding, it was like an apocalyptic sci-fi film where robots emerge from the shadows. It was an immense visual effect, one they maintained for their full half hour allotment, and thrilled all the way to the end. But they were more than just a novelty, their music was sublime - the harshness, the throwing themselves into every note, the riffs - it was standing on your toes, hairs on your arms rising, shiver down your spine gig brilliance. As sun shone down through a skylight onto a square patch of crowd, with dry ice illuminated through it, I knew I was watching a truly incredible band. (Pete)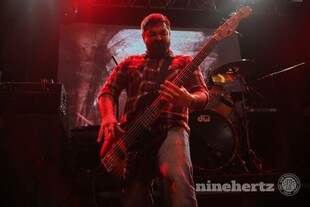 SONANCE - The patience required to stand through Sonance's long and winding dirges could've been a challenge for many on a weekend as packed with slow, doom-tinged acts as Temples was. However for those with the nous to stay, subtle changes reveal themselves gradually through their set, proving their place on the bill absolutely. The lurching Belgium sounds massive and the stark, black metal-tinged instrumental passages are shanked deep when the vocals come in, all throat-shredding screams and chaos. The projections they employ also add to the overall atmosphere, one of terror and foreboding. (Mike)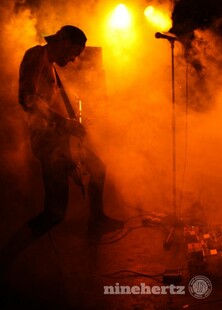 MANTAR - The dank and packed second stage is the perfect home for Mantar. An energetic two-piece who set up facing each other, they are Pete's shoe-in of the festival but he walks away not enjoying them. Their chugging, wiry sound is a bit more hardcore than other sludge on display over the weekend but it's invigorating and there's soon beer cans held aloft as people give it some to their almost upbeat take on an often grumpy genre. Great afternoon festival fodder, Mantar were a choice booking Temples peeps. (Mike)
HALSHUG - Just as Wolfbrigade and Doom had d-beat the shit out of the second day of the inaugural Temples, so it was with the sophomore year. Halshug don't have the history, devotion or mutltitude of back patches adorned toward Skitsystem yet, but they may end up with similar adoration. Halshug play it straight - no fucking around with the alchemy of mixing in doom, black metal or any other genre - pure crust goodness. It was refreshingly simple, and fantastic. (Pete)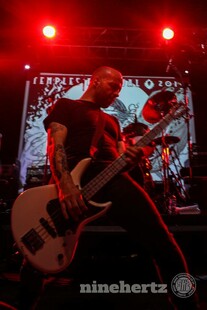 TORCHE - It is only in testament to the quality in depth of the Temples line up that my excitement in anticipation of Torche is muted, an afterthought that they're even playing. This is one of the most exciting bands anywhere, a livewire band in a class of their own. They prove this and more on the main stage on Saturday, playing tracks from across their back catalogue, and getting everyone simultaneously dancing and head banging. Newer songs mix well with In Return and the explosive guitar sound of the debut album airings, while Healer lends weight to the "Alkaline Trio gone sludge" description we try to convince Ari with earlier. They even play Sky Trials, for maybe the first time in the many I've seen them, 90 seconds of pure riff metal pop fury that has me grinning maniacally with both hands in the air, presumably pissing those stood behind me right off. Don't care, Torche are perfectly worthy of all devotion. (Pete)
PORTAL - Yes, I admit I went in with an eye to see what they looked like. And it was fucking grim, a Guillermo Del Toro necromancer nightmare gone sour. But I've started to appreciate them on record recently, when I was in my pre-festival investigation moods, and while we came for the novelty, we ended up staying the whole set for the music. Initially, stood near the second stage bar, the sound was terrible, I was able to hear Mike talking to me all too clearly, but as we moved round towards the back, the volume increased and it began to sink in. This was primal extreme metal of gargantuan proportions, shaking you from head to toe. We stood with the back of our heads purposefully against the wall and the resonance shook through us as the riffs forced us back. I've never been so engulfed in death metal as I was at that time, last Saturday, an awe inspiring headfuck that will live with me forever. Absolutely, pulsatingly magnificent. (Pete)
PIG DESTROYER - Pig Destroyer enter the main stage a different band to the frenetic and uncontrollable grind-freaks that graced the second stage the night before – not only in sound, but in demeanour and ambiance. If there were somehow members of the audience unaware of the performance of Natasha they were about to witness, it could be inferred from the band before they played the first note. Calm and collected, the group professionally carry themselves through the performance, extending sections where necessary and delivering the lyrical content with a genuinely unnerving vigour. (Joe)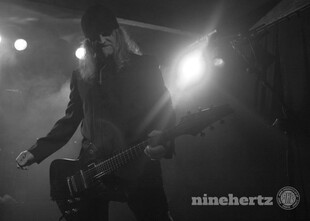 TRIPTYKON - Triptykon mark one of the festival's few misses – usually a vehicle of powerful darkness, Tom G. Warrior seemed curiously besides himself. Whether it was entirely due to tuning issues, which were awkwardly conveyed onto the crowd, we'll never know. Commencing with almost entirely mid-to-fast paced compositions (old and new), it feels as though the group are trying to fit in with the overarching up-tempo nature of bands sharing their stage; Triptykon are known for the slow and brooding gothic epics and these were, for the most part, sorely missed. The signature monolithic guitar tone was squashed into conformity and the band unfortunately never quite looked at home. (Joe)
SKITSYSTEM - After the mindfuck of Portal, Skitsystem sound a little flat and uninspired. There's points when their crust mastery raises its head but honestly it doesn't sound remotely threatening compared to the day's other revelations. Even the announcement of something from the 80s being played is dulled by the fact it could have been written yesterday. Limbs are flailing, but my mind is obviously stuck in a tunnel of darkness. (Mike)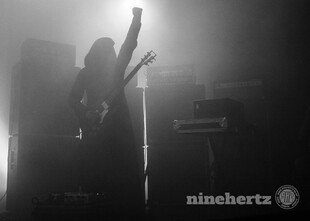 SUNN 0))) - Ok, here's my take on the most marmite band of the festival. Such was the mix of venomous and evangelical comment on Sunday that the facts should be addressed. As we drew the conclusion very soon after the performance, Sunn 0))) have been a performance piece or installation live for years. Those hoping for something immediate or approaching a song in the traditional sense have their hopes crushed on entering.
It is very easy to stand in the fog and scratch your head, much in the same way as heading into an art gallery exclaiming modern art to be talentless slop.
While one level I agree, the music they ply is a onanistic dirge of feedback and tone, the way in which they manipulate this live is to be commended.
Pete and I walk up to the balcony to find people splayed out as if jacked up on horse, their arms all crooked hooks and everyone else looking oppressed. Stageward, Atilla is rolling out some primal-sounding throat singing and subtle patterns are making the entire hall shudder. It's finding your own meaning in the gloom that makes Sunn 0))) a viable booking after nearly 20 years.
The late start on Sunday is apparently due to their damage to the speakers and there are rumours of multiple security guards suffering spontaneous nosebleeds, but that's not the headline. The fact people are greeting each other with the question "did you see Sunn 0)))?" is their strange, subtle marketing in motion. How to go viral in music? Stick to an unlikely idea for longer than anyone thought possible, it might just work. (Mike)