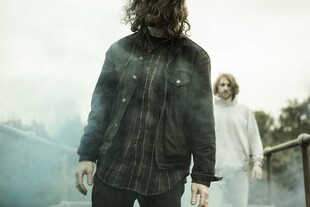 The fourth of our Temples Festival preview interviews brings us back to Britain, and a chat with fearsome doom duo GHOLD.
ninehertz: Of Ruin is one of our favourite albums of 2015 - how has it been received?
Ghold: Thanks, we really appreciate that a lot. Yeah I think it's gone down well on the whole, which has been great. Some healthy vehemence towards the album from some corners too which is always interesting!
ninehertz: How do you think you have grown between Judas Ghoat and Of Ruin?
Ghold: We've grown lots as you can hear - they are two very different beasts. Our working methods are definitely a lot more fluid now and we're able to move songs forward more quickly than we were before. Also the amount of shows we've played between the two albums has definitely refined our sound and our abilities to crush eardrums live.
ninehertz: You seem to draw from differing areas and styles of doom and sludge - who are your influences?
Ghold: We're both into lots of different styles of music and have drawn influence from lots of stuff over the years, both new and old. Some of our favourites are Burning Witch, Elvis, Man Is The Bastard and Harvey Milk.
ninehertz: Are there any restrictions of being a two piece? And do you feel it gives you any greater freedoms?
Ghold: Yes there are lots of limitations, but we consider them useful rather than restricting. Not having to answer to a third instrument has been interesting so far…. When everything is boiled down to bass, drums and vocals, the earth tends to open up and invite us inside (if we're lucky).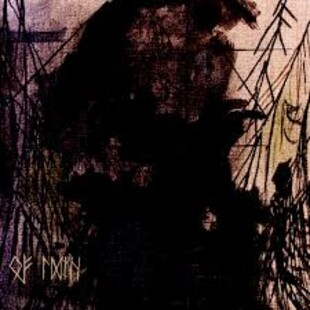 ninehertz: You're the first non-Ramesses/Bong band on Ritual Productions - how did that come to be?
Ghold: We played a Cacophonous Sarcophagus show in Bristol with 11Paranoias last year, got on well whilst in the crypt and everything went from there.
ninehertz: The doom scene in the UK has exploded in the last few years - have you noticed increased opportunities and exposure as a result?
Ghold: Yes definitely, when we started the band from our flat in Brixton we never thought we'd be afforded the opportunity to do half the things we've done so far, and the fact that people are going to shows and being supportive of us is very humbling.
ninehertz: You've recently been announced as tour support to Arabrot on a long list of US dates - what are your expectations of that?
Ghold: We expect to be very burnt out by the end and to have played as hard as we can every night! Beyond that we can only speculate………
ninehertz: You're playing the Sunday at Temples, following Monarch! and Year of No Light on to the main stage - that looks like a daunting task!
Ghold: Yes totally, I saw Monarch! a few years ago and they were crushing! Going to enjoy watching both of those bands.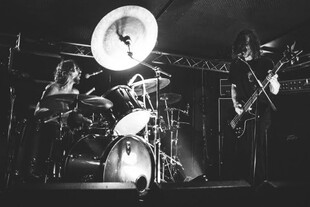 ninehertz: Will you tailor your set any differently than a normal gig?
Ghold: We're playing slightly longer than normal so expect some lengthy numbers in there. Aside from that we'll just get our heads down and crank it out.
ninehertz: Who else are you looking forward to seeing at Temples?
Ghold: Unfortunately we'll only be there on the Sunday so missing out, but will have to definitely catch Voivod, Earth, Pallbearer, Ohhms, Ken Mode and Krokodil if we can!
ninehertz: Thank you for talking with us, I look forward to finally seeing you live on the 31st.
Ghold: Thanks a lot for your support, nice one.
Top photo by Daniel Ali. Bottom photo by Rebecca Cleal.