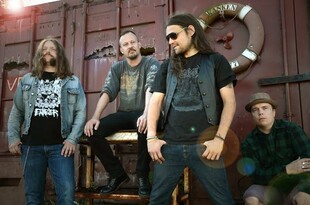 With less than a fortnight to go to Temples, it is starting to get tantalisingly close and the excitement is rising. In the third of our festival preview interviews, we catch up with Micke from MARTYRDÖD, who play the main stage on Friday 29th May.
ninehertz: Festivals offer up the opportunity to play to people not aware of your band - how would you describe yourselves to people attending Temples who aren't familar with your sound?
Martyrdöd: The dark and desperate style of music we play is something of an original derivation of Swedish hardcore and crust punk with heavy downtuned guitars and an unusually strong sense of haunting melody.
ninehertz: Your music, while obviously punk based, is full of different influences and genre styles, making it hard to pin down. How has your sound grown over the years?
Martyrdöd: Although there are different influences I think there are a couple factors within the songwriting that's easily recognized and always comes out sounding like Martyrdöd. I would also say that we always had a rather consistent sound with a distinct style and identity that we just have refined over the years.
ninehertz: You're playing the main stage sandwiched between a lot of Deathwish Inc bands. Who are you looking forward to seeing at Temples?
Martyrdöd: This festival will be a blast with a great line-up and lots of bands that I would like to check out like: Converge, Nails, Trap Them, Young and In the Way, Today is the Day, Enabler, Pig Destroyer, Sunn(o), Goatsnake etc I will also play with Skitsystem on Saturday, unfortunately I will miss Voivod and Earth on Sunday as Martyrdöd will go on a short tour.
ninehertz: Do you approach a festival set differently to a headline show?
Martyrdöd: The main difference is that we are likely to play a slightly shorter set on a festival.
ninehertz: is this part of a wider European tour? What's on the agenda for Martyrdöd in the coming months?
Martyrdöd: After Temples we'll go on a small tour with Palmreader through France, Germany and Denmark, and well return to Obscene Extreme in Trutnov (Czech Republic) in July. We also play Maryland Deathfest in Baltimore (US) the weekend before Temples
ninehertz: Is a follow up to Elddop in the works?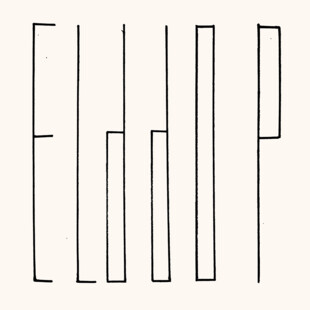 Martyrdöd: I always have some ideas for songs in my head but right now I still feel exhausted after struggling with mental illness this year. I was locked in an asylum for a couple months without a guitar. One could think such experience would make one more eager to write, but for now this period have put a halt to the writing of a new album. Im sure I will start all over again when Im ready for it, but I feel that I need to be truly inspired with energy if to make an album that will top Elddop.
ninehertz: With Elddop, the vocals sound particularly fraught and emotional, was this a conscious decision? Do you ever tire of the usual vocal delivery in your genre?
Martyrdöd: Yeah I can get tired of alot of stuff in such a narrow genre when it feels uninspired, but I also still love simple Swedish hardcore when delivered with the right attitude and power. Anyway with Elddop I just wanted the vocals to match the intensity of the songs, and there is alot of lovesick rage and despair expressed on this album so it turned out naturally this way.
ninehertz: The UK recent voted for a right-leaning political party to rule, do you believe the best punk/anti-establishment music is made when people feel oppressed?
Martyrdöd: I guess there are some examples, like it's said that the anger provoked by Thatcher and Reagan inspired the rise of 80s punk/hc. But offcourse there also countries with oppression that never had a punk/anti-establishment movement so I guess there are also other factors than the levels of oppression namely awareness and the means to express oneself.
ninehertz: Do you support any political or protest movements as a band?
Martyrdöd: Some members of the band are more political than others but I think in general its safe to say that we are likely to symphatize with movements for enviromental, social and economic justice and in general against racism, sexism, homophobia, fascism, millitarism etc.
ninehertz: You have a large back catalogue these days, do you have a particularly favourite album of your own? Do any old tracks still surface in your live set?
Martyrdöd: My personal favorite is without doubt our latest album Elddop and after that one I would say its the album before Paranoia. We still play a couple of older tracks from in extremis that works good live.
ninehertz: Thanks for speaking to us!
Martyrdöd: Thanks for the questions and see you at Temples Fest! Cheers!
Photograph by Annette Lith.