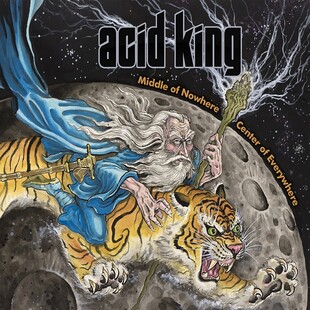 A byword for stoner rock and doom for so long, Acid King are a bona fide institution of the genre. It's amazing this is only their fourth album, but pleasantly welcome to see their return. Busse Woods was one of my first Man's Ruin purchases as I dived headfirst into the stoner rock world I discovered in my mid-teens, and it still gets played every now and again now.
Middle of Nowhere, Center of Everywhere picks up as if they've never been away. Moody, slow, Lori's voice calling out as if pained or full of regret, a lament to the world. It is hauntingly beautiful in its downbeat psychedelic creation. A modern reference point that jumps to mind is Solar Halos, and maybe even a denser Royal Thunder to a lesser extent, but Acid King of course hold thier own direct line of influence, and this carries on a strong proud tradition of quality recorded output. The first song proper, Silent Pictures sets the bar high, and in reaching near ten minutes it never explodes or expands, simply dreamily carrying on, resting within a contemplatative doomy cloud.
The album as a whole is hypnotic, one to put on, sit back and let it wash over and pulsate through you. It's understated approach, never attacking your senses but homing in with an irresistable tracter beam, is powerfully enticing and lulls you into a false sense of serenity, as the morose moods and whole passages of minimal trippiness draw you in.
Masterful and beautiful, Acid King's doom rock crown hasn't slipped since their last album III. As that was over a decade ago, from a band who started life in 1993, and as the genre has grown and evolved beyond all expectation since, that is some achievement. Yet it shouldn't come as a surprise - this is a band who know their craft - their sound - and are able to manipulate it in their fingertips to create music to lose yourself to.