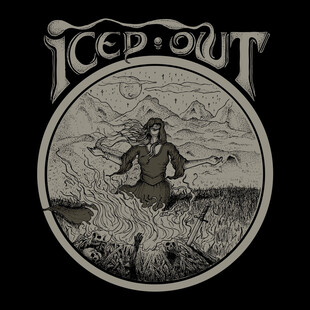 Death and taxes as the old saying goes, are the only certainties in life.
Wrong, the fact that all of Witch Hunter Records releases have been fecking stellar is also an indutible fact. From Tree of Sores, Year of the Flood, End Reign, Mage and many more, it's been a label to trust. This latest record by Iced Out puts a firm line under that too.
Easily one of the most interesting crossovers we've heard in a while they marry the best elements of sludge with the bravissimo and aggression of hardcore without sounding like a crammed-together genre mash.
With some pretty generic song titles, (For The Coven, Man's Ruin and Space Mountain) Iced Out blow that slightly lazy aspect of the release out of the water pretty quickly. With a driving and pissed-off attitude, they take bass-heavy and chugging sections to doom-like crashes of intensity, all vomited over with a singer who sounds like he's being lashed to the brow of a ship in a storm. The rasps that are heavily ingrained with either distortion or sheer volume serve to make Iced Out sound like the upstarts you witness unexpectedly as a support or early slot in an all dayer that make you think you should just go home as nothing will be as impressive after their outbursts.
Dripping with venom, this is negative, authentic stuff that grabs you hard and shakes you.
More bands should sound this angry, it just sounds healthy.