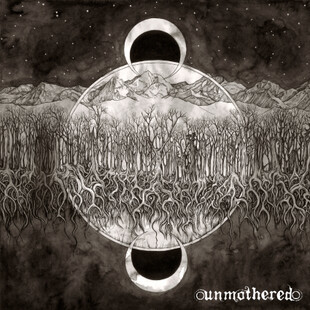 Black metal leanings within doom is no new thing, but there is a definite movement of bands meddling in the strange and murky marshlands separating these islands of metallic wonderment. There are bands appearing from the mist on a regular basis, and more often than not it's a thrilling ride along the amalgamation of sound. Unmothered are another, and add to the growing scene with this short and enticing EP.
This is darkened doom and sludge but with a higher tempo than the usual drugged splurge of shadow and introspection; anyone familiar with Unsacred will recognise and welcome the sound. Within Magnetar, the black metal influence and vocals try their hardest to dampen the post metal upsurge towards the track's finale. It's fantastic, analogous to Black Monolith, but not as grand in it's post- pomposity. Indeed, all three tracks are done in under thirteen minutes, Unmothered not meandering into Neurosis fandom at any point. The pace is disarming, changing the shapes in which you try to peg them, the beginning of Huntress being a prime example, akin to Okkultokrati in their gloomiest moods.
It has the weightiness to be centred as a doom album, the black metal never wholly engulfing, but the pace gives Unmothered an angle which is to be admired, like Ramesses running through Misanthropic Alchemy like they've a bus to catch. It's not all great, Scarp losing their definition somewhat, but as a short statement of intent, with beautiful artwork included, U M B R A is a beligerantly entertaining package.