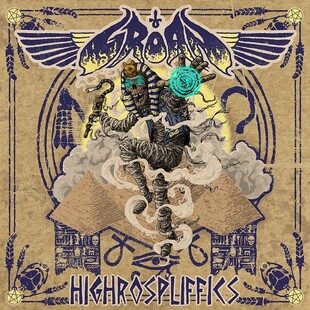 The anticipation of a new Groan release is like the last day of school before the six week break, with minds already drifting away with giddy possibilites of fun to be had. And now here it is, and it doesn't disappoint, a glorious summer with friends and party. Groan have taken a weird route to where we are now, from a strange cross-country collective of minds to a more permanent fixture, and the positive benefits are obvious. They've not only grown over each release but seem to morph ever so succintly each time, from boozy stoner wizardry, to trad doom revelry and NWOBHM histrionics.
Highrospliffics - the weed addled influence runs deep throughout - is an accumulation of their journey to here, hybridising all of the above to create Groan's most likeable and rounded release. All four shamans that make up the coven known as Groan are at the top of their game here, with Mazz naturally stealing the limelight, being, well, Mazz, as natural born a frontman (in all senses of the word) this country has produced for decades. If he were born 30, 40 years ago he'd have been poached to be one of Ozzy's replacements.
Witchfinder General Finder, fetching in it's Bad Wizard coattails, is like an over excited uncle going for a Maiden cover at the disco karaoke. It is superb; phenomenally catchy. March of the Druids, seemingly a story of intergalactic warriors intent of getting you high, harks back to Anthrax's Among the Living, a most welcome revisit to my early teenage years. And then there's Buried in Leather, a boogie metal supernova, best left to a sample of the lyrics, "Heavy metal thunder, sliding on some leather tonight. When I die... bury me in leather and a cut off denim vest."
For all Groan's reputation, this is no joke band, and seemingly in a better place to grow and conquer. Not that this is serious music, just seriously fucking good time rock.