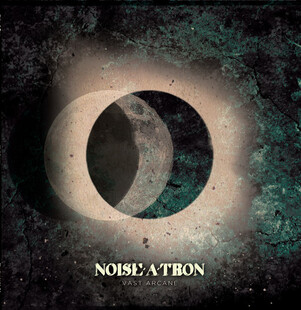 Often with drone music, percussion is a more implied element. Endless looping of sound and a flat, gradual shift is never punctuated, more likely to be left to flow like a forgotten tap or stopcock.
Noise-A-Tron approach their opening track to Vast Arcane with a curious idea, giving a drummer total freedom to ruminate and create over a bass and synth sonic landscape. Married couple Jason and Lea Bledstoe play drums and keys/bass respectively and it is a rich sound indeed.
Skirting drone, sludge, stoner rock and even motorik vibes, they lock into various grooves that form concentrated pockets of awesomeness. Songs veer from raging bass workouts to crumbling drone decays with a focus on keeping your attention. Working on this recording for months, the pair have created a piece of work that almost wraps it's tentacles around your throat to draw you in, the stick-splintering drums high in the mix and cutting in to reflect the gravity of drama the bass and synth create.
The production has been cranked to put emphasis on all the elements that will either inspire devotion or indifference to Noise-A-Tron's sound. The screams of feedback, the grinding, mighty bass tones falling out of amps and the crack and resolute pop of kick and snare show this release has been examined down to its finest minutiae.
Unlike similarly-treated heavy music however, this hasn't been sanitised or airbrushed. Nope, Noise-A-Tron's ugly parts have been signposted, regurgitated and made more brazen. This makes for a triumphant and jaw-dropping listen.
Like over-revving an engine, their sound is designed to crush and thrill, it might just be the most original thing we've heard in a while.