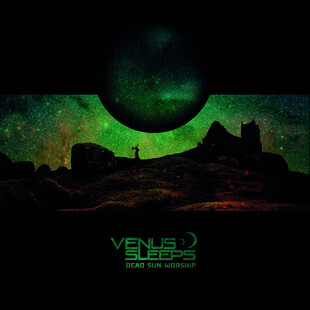 Venus Sleeps are a four piece "psychedelic doom" band from Dublin. One run through of this, their debut, immediately highlights there are the basic corner points of influence - Electric Wizard for a starter, minus the aural embodiment of the occult obsessions, and Sabbath (natch), with Wino's shadow patriarchically shrouding the whole album - yet it isn't overly reliant on a single source. This is doom alright, but the familiarity it arouses in you a warm fuzzy embrace, as opposed to any annoyance at unoriginality.
Only fourth track I Am the Night tracks back squarely to one of those pointers, that of certain Dorset doom overlords, but it's decent Witchcult Today worship so barely a hinderance. The opening duo of Ether Sleeper and Dawn of Nova never let you settle your finger on a direct comparison, and sweep along on doom vibes that are never overly dense yet maintaining a heaviness allied to similar stoner rock sensibilities to that of, say, Bright Curse or even someone like Mountain Witch. It's entertaining fare, made more the welcome by vocals which I'm really taken with, expressive and varied, lending Venus Sleeps an edge over many of their contemporaries.
The album's centre is a surprise cover of Syd Barrett's Golden Hair, restrained and melancholic, nicely interluding the album. Age of Nothing, all dark stoner tripped out vibes in its early moments, is the most significant representation of their self-tagged psychedelic side, cosily, dreamily (and heavy never the less) ending the album on a satisfyingly high note. Dead Sun Worship is mature for a debut, consistently strong from start to finish, and immensely enjoyable, it promises to be an album I'll go back to again and again.