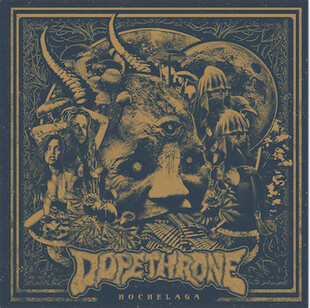 Preconceptions for this album base around an uncomfortable question that needs asking; it's not nice but I need to air it, so, to be blunt, what's the point of Dopethrone? Originality is evidently out of the window - generic names are de rigueur in stoner and doom but naming yourself after an album by a still active band is surely stretching it too far - and anyone familiar with their three albums to date know that they aren't pushing the frames of the genre they reside in, as many others are in the current climate. Do they arguably just play good music that is done better by others?
Sludgekicker opens the album but doesn't help answer the question - there's Bongzilla worship going on here in full sight of all, but then it's hard to dislike, while Chameleon Witch is undeniably brilliant, sludge as it should be created, born through mud to tar the sky, it's simple repetitiveness forging a groove that leaves you empowerless to fall into. It's a shame when they fade out as I could take happily lie in the same furrow for a while longer.
The fail to reach those heights again, but there's fun to be had with the New Orleans-ish Scum Fuck Blues, while Dry Hitter offers a darker soul (a distinction presumably only noticeable to those already accustomed to sludge as it is), and stands out as a result, the riff and spat-forth vocal repeat burning an imprint on to your mind. There follows more of what Dopethrone have done for years now - solid sludge metal that is neither bad nor particularly great, with the odd generic lyric thrown in.
There's still issues here to be resolved before I could endorse this album. The song names could come from an automaton Sludge Song Name Generator, they clearly haven't developed their sound to any noticeable degree, and they still sound like Weedeater and Bongzilla. Yet, with Dopethrone's standard headed upwards to those of their influences, and the output of those duo not exactly prolific, then it's increasingly hard to beat down on Hochelaga like I seemed to going into this review. I still have my doubts, but if music makes you grin and rock out as much as this does (while I'm drunk, as I am now, and forgetting my reviewer pretentions for a moment), as it may do you, then fuck my negative preconceptional self, and fuck all other considerations.