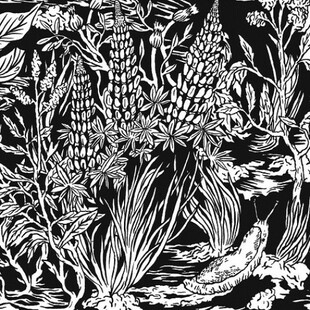 Sometimes you need to escape it all to truly be free. Some wander up mountains, some float out to sea. Portland's Eternal Tapestry delved deep into the woods to find their solace.
Recorded in the Oregon woods, Wild Strawberries is a mystical, magical and roaming piece of work. If Sunburned Hand Of The Man rocked a digital way now and again, it'd probably sound like this.
Wide open chasms of psyche float freely from the band's core, with strange and undulating sections of experimentation filling the gaps.
For all their sweaty wildness, Eternal Tapestry have always been able to bring in the lazy, barefoot jams too. Take the gorgeous Enchanter's Nightshade for example, a jam so baked you could serve it with cream. This is music for city-living hippies who want to create an oasis among the concrete, growing plants in the cracks in the pavement.
Apparently the album stems from a pile of tapes the band recorded on an old 8-track, replacing some Phish bootlegs. Selecting the best parts from these extensive sessions means every floating moment is captured at the best possible angle, like finding the arc of the rainbow from tilting a glass prism in the light. The whistle of feedback and shakes of percussion that foppishly fall from the speakers mean you are drawn in to a hazy, waking dream.
You can imagine the natural light fading as they explore another avenue of exploration, completely overtaken by improvisational fervour until the fronds of light that announce the morning rise over ferns and tree bark, notes ringing over the silence.
If this kind of thing doesn't have you feeling triumphant and slack-jawed, not much will.