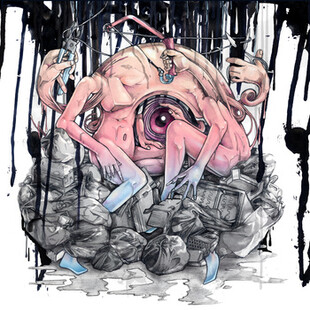 When people come together for the greater good, isn't it a good thing? Like the fact BBC Radio 6 Music is still on the air after listeners campaigned for its future or when Deidre Rachid (rest her soul) got set free thanks to a media drive and overwhelming public support (I realise these are somewhat disparate examples).
With this in mind, we come to the fantastic Alright The Captain.
Contact Fix is the result of a fan-funded and successful Kickstarter campaign where pledges from the public have ensured it can be pressed onto lovely coloured wax and come packaged with artwork and ephemera that the band truly envisioned, but probably weren't able to afford initially.
The culmination is a bold and exciting new album which from the opening shots of Toaster Mouse and Baltirific show that the tone since their last effort Conversation Skills... has been well spent.
There's a new, fired up energy to the songs here and a sense of urgency that shows a marked difference in terms of quality and songwriting nous. Witness the unusual Vampire Weekend-esque world music break in the latter of the aforementioned tracks to work out just how much this three-piece fit into their sound. Among the post-metal pomp, the crazed electronics and fervent riff gymnastics is the combined creative thoughts of all three members locked in.
The massive bass sound that threatens to rip the excellent HBT from its moorings contrasts well with the more mathy and effects-led Eagle Hands which gives off again this overarching sense of power and awe to proceedings.
What can be said about the amazing recent single Ben & Barbara that hasn't been said already? The shifting Terminator-style synths that underpin a maelstrom of picked guitar notes and some whirlwind percussion are just kaleidoscopic and dizzying.
Live, AtC are a great act to observe. Tighter than magnets, they set up on the floor, often way into the room. Their sudden shifts in volume and frenetic movement mean you are drawn in to a snappy, precise sound that sometimes seems like it might descend into chaos but never does.
They've absolutely captured that here with Contact Fix, it sounds as if it's crawling out of the speakers towards you.