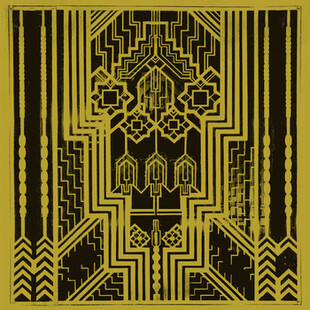 In Black and Gold is already being touted as Hey Colossus' best album yet.
Let's just take a second to let that sink in. Far from being a band seeking their sound, they are a band who found it long ago. No, Hey C are a band who tire easy of complacency and love to experiment. The head fuzz of Dominant Male, RRR, Witchfinder General Hospital and perhaps the split with .dot are experimental soups they have concocted alongside their more meaty fayre, but 2013's Cuckoo... proved the new lineup was into a rich new seam of creativity.
So what of this new LP? The artwork looks like the sexual organs of some divine circuitry, sleek and future-cool. What's inside though is nothing so base, HC have found a new, beautiful high.
Not since 2007 have the many-legged stalwarts started off a release with such calm as they do with Hold On. Sounding like the new dawn witnessed by listening to Eno's Music For Airports on low volume it's all blissful and sun scorched stuff.
Despite this, it's not entirely a departure from Cuckoo... more of a swift evolution.
Sisters And Brothers arrives with some crows cawing before a snarly and snaking procession takes over. If strange, shamanistic folk bands ever went electric, this is probably what would occur, the bone-shaking and ramshackle sound burns bright in a dark space. Lyrics seem to focus on grumbling frustration, but are delivered like some sort of spit-flecked sermon from the pulpit.
Listening back to Hey C's back catalogue prior to writing this, you can see the skeletal remains of their first incarnation. Only two members of the lineup that recorded II remain, but the same driving power that delivered songs like Raise The Flag or the early gem Ghost Ship from the split with the Phil Collins 3 are there underneath the new, more intricate sound.
Hey Dead Eyes, Up! is a perfect example, all sludgey posturing and bellowed vocals but with a noise sheen that adds rather than intrudes on the core sound.
This is followed by the likes of Wired Brainless which glitters and sparks in a cosmic way and the title track which moves in huge brushstrokes to paint a track that manages to sound menacing and beautiful at the same time.
That title track in particular shows an awareness of dynamics that has perhaps been lacking in recent years, when it strikes into its motorik crescendo payoff the head rush that accompanies it can't be beaten. Nuanced and invigorating, this might be the best example of the recent sound HC have perfected.
The Eastern-tinged Lagos Atom sets the scene for the tone of the next few tracks, its burbling electronic speech sounding like a cyborg emerging from the lakes of an Indian palace. The insistent beat that dominates later on rams the robotic message home.
Eat It sounds like Sisters And Brothers' petulant little brother, all denim jackets and wraparound shades. It's got some pretty sweet vocal outpourings on it, 'Leadbelly gargling with treacle' comes to mind.
At Ninehertz, we try and avoid track by track reviews, they tend to read laboriously, but having absorbed this album over a few weeks, it feels remiss not to give attention to everything present here.
Therefore the album's closing track receives the same regard, as its a crashing, doom-informed sledgehammer of a track. When it fades away you are left reflecting on what a huge piece of work this is. Certainly their most rounded and satisfying album in a while, it also appeals to all who might have heard them previously in their various forms.
This is an incredible album, one which promises to be perhaps the most accessible, yet inventive Hey Colossus album yet. They have some rare northern dates coming up, consume or die.