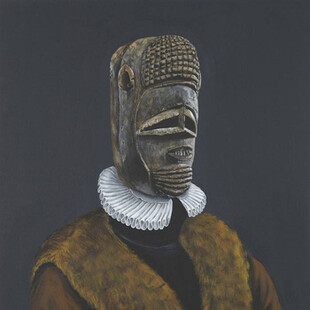 The mysterious JUJU is a new band formed by Richard Francés (Acid Fountain) and Adrien Kanter (Trésors, Le réveil des Tropiques), both from Paris.
Echo de Gradient is an improvised, dizzying tape release that brings in some pretty far-reaching influences. From the out-there knob twiddling of noise, to the jerky, world music-inspired rhythms this duo seek to create a beautiful yet dangerous-sounding release.
Noises which were never designed to go together collide in strange ways here, like the wailing of an unattended alarm chiming in unison with the clatter of refuse collectors' efforts to wake everyone in a street by dropping bins at random intervals.
Synth loops and rusted metal scrapings come into play at times, making the music on offer sound as foreboding as a UFO landing, but as blissful as a radiant sunrise. There's even time for a Plaid-inspired disco pumper on Miles Limes where a 90s beat is overlaid by some jarring samples and incidental tone abuse.
Elsewhere handclaps judder across your sphere along with metallic shaking on the too cool for school Pas de Futurism, making motorik and neo-Eastern impressions as it goes.
Cartoonish and brash synth washes and intrepid key explorations also continue this bizzare party on Miroirs which moves further into darker climes, harbouring a post-rave, unfussy comedown feel that threatens to turn evil but never quite does.
JUJU is at the edge of consciousness, live shows you imagine would encompass projections of rapidly shifting shapes and animal masks. Truly magickal.