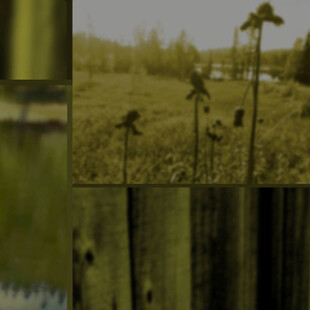 When a group cite their influences, they have to be aware of the connotations and expectations they will invoke with their selections. Svarta Stugan have listed Twin Peaks and Blade Runner amongst theirs, which bear very specific implications to those acquainted with the works, much more so than were they to have more holistically cited Badalamenti and Vangelis. Each of the cinematic creations are noted for their richness of atmosphere, and their wealth of nuance across both the characters and their environments, so these selections – especially when coupled with unambiguous referential titles such as Damn Good Coffee – will place the listener in a very particular headspace before the music begins, wherein any waver will only cause distress.
From these influences, we find ourselves somewhere between Neo-Tokyo and the frosty Mid-West; in a town touched by the future but not overcome by it, where everyone knows everyone else, although some are not quite what they seem. Those familiar with Blade Runner will revel in the familiar warmth of the synth tone across the first half of the EP – indeed, a few lines of Street View appear to be lifted directly from the film's Main Titles theme. The influence is worn well and truly on the sleeves, but with a mildly divergent, playful and almost twee nature. However, as we wander the cold, suburban streets, the looming figure of Badalamenti is not amongst the townsfolk, and neither are his heart-breaking string movements or his darkly mischievous jazz drawls.
Damn Good Coffee blends an element of post-rock into the futuristic soundscape and swiftly subdues the dreamy electronica in time for Side B. Were Side A to represent one influence, both Drums in The Light of Christ and Un-Birth attack the senses in a manner not too distant from Zu or Ultraphallus, wherein a jazz link can be drawn to Twin Peaks; however, the free nature of the music makes it a strained comparison at best. We know this town has its secrets, but the music explodes as if a mystery has been unfurled and the townspeople have not rejoiced but gone mad. The musicians are clearly capable of releasing themselves from conventional structure and melody, which is an admirable quality by any measure (and indeed the strongest part of the EP), but they don't appear as proficient in knowing when – or indeed if – this is necessary.
Aspects of Our Future Selves reads more like A Tale of Two Cities, wherein multiple artistic visions collide and focus blurs beyond our expected recognition. The walls of the town are built on solid foundations, but the bricks and mortar won't weather the changing of the seasons.