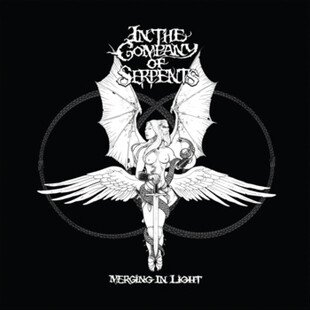 Black cowls, sunset. The Wizards have convened and thrown down a curse on the village. A murder of crows blackens the already dull sky as fires are lit at beacons warning ships to turn back, serpents rise from the deep, pungent earth to spread their plague and acid rain starts melting statues as the dead bust open their gravestones to emerge stinking and putrid, seeking out remains of life in this barren, bleak void we call life.
Suitably gloomy? Good, as In The Company If Serpents are back to ruin your day just before Christmas.
The follow-up to their excellent 2013 effort Of The Flock, this Christmas sees the three-track Merging In Light taking the two-piece to new levels. Their pummelling and mid-paced riff exercises are as fiery as usual, but this time a more focused and direct approach is adopted. Comparisons to Matt Pike's work is inevitable, but not perhaps to Sleep, more Death Is This Communion-era High On Fire, the brief and hulking Third Mind being particularly impressive.
Closing with the dark and brooding A Union Of Opposites is also a good move, the delivery is huge and every chord seems to leap out at you, so precise is the production in showing off the power this duo are channeling.