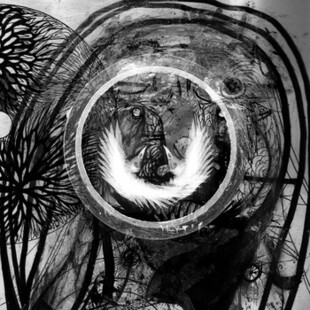 In the days after Temples I had a long list of music to investigate further from my surprise packages of the festival. Sonance were one after an incredible set, but with much to check up on their twenty minute epics were inpenetrable for my inpatience. My loss it would seem, after finally catching up proper with them through this newly released album.
Blackflower is unusually structured - with a 16 minute opener followed by four shorter tracks - presumably set up for future vinyl release. If so, the A side will be all Belgium/Blackflower - a slow burner, gentle to start, whistles and strings airily moving the track towards heavier breaks and screamed vocals. It is too cold to embrace, but not aimless - the song is a pre-planned if disjointed journey, compelling you to follow. It proves a wise choice as it gathers pace and explodes, multi-layered vocals and riff claustraphobic venom decimating the climax.
There follows the instrumental ambience of Belgium, and the celestial beauty of Attachment, evocative of the otherworldly sensory manipulation of Sigur Ros. The immediate heaviness of Conical is a hulking monolith standing amongst the calm, its doom footprints muddying the purity that precedes it. The adjourning Tearce is a dust cloud of Necro Deathmort soundtrack spaciness.
Eclectic, but never forced, the heavier moments do more than just break the peace, but expand the frame within which the Blackflower canvas is set, enabling the quieter passages to hold and develop within their own space whilst providing huge contrasts that illuminate the listening experience. Multi instrumental and wise beyond the band's years, there is an air of the supernatural mastery of Ulver throughout, a delicateness and exactness of touch, and a confidence that is persuasively beguiling.