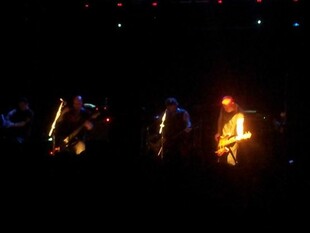 It's top ten list season, so I thought I'd get in with one early. I've attended 28 gigs this year (plus one and a half festivals), seen 112 sets from 101 different bands, across 14 venues in 5 cities. There have been so many amazing nights spent with friends, beer and heavy music, I thought I'd describe my top ten bands of the year in the live arena.
1. Neurosis - Temples Festival, Bristol Motion - 03.05.14
I alway knew I needed to see Neurosis in the flesh to truly cement my love for them. And despite the reverential reports from friends about their experiences, nothing really prepared me for how amazing they were. This was live music as a true event, a primal, shattering, spine tingling reckoning. Shorn of their visuals, they held attention with a heaviness that shook the floor beneath you. They played for well over an hour after their alloted finish time, which, at the end of the middle day of a festival meant it was an endurance test to stay with, such was the intensity. At its end, there was almost relief, but as we all walked back to our hotels, there was a tangible sense that we'd witnessed something truly special.
2. Nick Oliveri - Sheffield Greystones - 10.06.14
Going to see a member of Kyuss in a real ale pub in the outskirts of Sheffield was always going to be must-see, but I wasn't necessarily sure what to expect musically, at what was an acoustic event. And then there's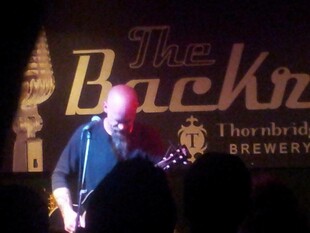 Oliveri himself - an enigma of drunken legend, innuendo and rumour. What turned out was a friendly guy hanging around outside with his fans, getting kids to come onstage to sing with him (although dubiously for a cover of Feel Good Hit...). Kyuss, QOTSA, Dwarves, Mondo Generator and old hardcore covers filled the majority of the set, and overall it was a beautiful summer evening.
3. Baba Naga - Sheffield Lughole - 13.08.14
There is nothing like coming across a band for the first time and being absolutely blown away. We'd been out drinking before, and I was just quite merry, not too drunk to miss them, but on a happy wave, with friends, in a great venue, and fully receptive to what was to come. Baba Naga were astounding, psych rock brilliance played before a packed punk crowd, everything was perfect for their set. There's been some terrible news in the Baba Naga camp recently, our thoughts are with them.
4. Bong - Sheffield South Sea - 15.06.14
I have been grateful for the South Sea rising to prominence as a venue in Sheffield situated as it is a short walk from my house. I thought I might be restricted to local acts and post-rock groups, until one night there I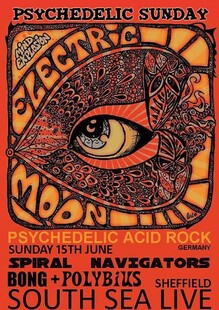 saw a flyer advertising Electric Moon, a German psych band, with Bong further down the bill. I made further checks and it was indeed that Bong. They confused a largely psych-rock crowd, but they were utterly mesmeric - the live setting the true habitat to experience their sound. Drone brilliance.
5. Throne - Sheffield Great Gatsby - 26.07.14
Another gig that was special for everything coming together perfectly - in a pub in the middle of the massive city-wide festival Tramlines, which had been light on music to my taste to this point, with friends and beers, along came Throne to provide themusical thrill. They were on oustanding form, hard rocking British stoner rock with a doom edge; we rocked, we sang and we danced all through their set, with all 5 other people there. Superb.
6. Workin' Man Noise Unit - Sheffield Tye Die Tapes - 28.06.14
I'd heard them on bandcamp before, and have revisited since, but it never hit a nerve to get me hooked, yet live WMNU are a different beast altogether - full on, energetic riffology that goes from hardcore to stoner rock and back again, with infectious groove. The increased use in practice rooms in Sheffield for gigs this past year has been a joy, creating more natural feeling, involved gigs, and this was the perfect example, a band engaging with the crowd and putting forth an electrifying set.
7. Oathbreaker - Temples Festival, Bristol Motion - 04.05.14
I wanted another band from Temples, as they were so many highlights across an amazing weekend. For an inaugrual festival, it was run superbly, and everyone there was so fully engrossed in the event, it was a pleasure to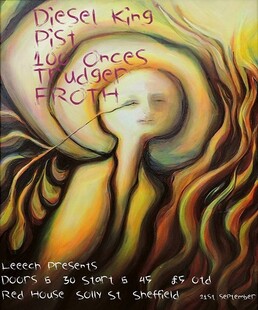 attend, and a credit to the organisers. There were so many bands I could have chosen from, but I went with Oathbreaker, who played the second stage, and attacked their set with such ferocity it drew everyone in closer, and from the bars and outside areas, face rippingly loud and intense.
8. Trudger - Sheffield Redhouse - 21.09.14
Trudger have oft threatened to rise to UK dominance, their destroying demo, and mature post-metal album showcasing their talent, but I hadn't been blown away by the Barnsley lot until this night. Playing early in front of a sparse crowd, they were incredibly heavy, massive riffs flooring the crowd; my main memory is stood at the front grinning like a fool.
9. KEN Mode - Sheffield South Sea - 18.10.14
Seeing KEN Mode in Broomhill in Sheffield was a complete joy, on a bill with Hark and good locals. Hark would've made this list, but I was a bit drunk by the time they came on and was getting confused between Hark and Taint tracks. KEN Mode however were immense - the menace on the vocalists face as he put life and soul into his performance, stalking around the crowd as he went, conveyed itself into the crowd, putting you on edge and heightening you awareness to enable you to take in a special set.
10. Beehoover - Salford The Eagle Inn - 26.03.14
This list is biased to the end of the year, naturally, as the memory fades fast nowadays. However this stands out bright and clear - one of my favourite bands of the last few years, playing a conspicuous gig in an unknown pub near my old student flat. Despite the venue, there was a decent attendance, and Beehoover did what they do best, making what on paper should sound terrible instead magical, heartfelt and heavy, they sound like no one else and ever brilliant.
Let us know your favourite live bands and gigs from 2014 in the comments.