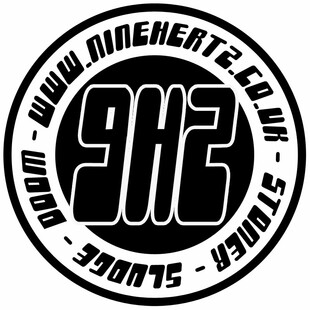 To the slight disbelief of all of us involved in this website, ninehertz has now been online for over 10 years. Throughout our existence we have tried to avoid self-congratulation and remain humble, as I believe support networks to the actual musicians should, so please excuse us this nostalgic self-indulgence as we look back over the last decade.
It all starts, surprisingly, with Kerrang! Back in the early 00's, before Facebook or myspace existed, the possibilities for connectivity between music fans was in a fledgling state. Kerrang! hosted a number of forums, with several for specific music genres including the Stoner/Doom forum. In there, a group of about 30 or 40 people started to post, bonding over their love of fuzz grooves, and got to know each other very well over a couple of years. It was cross-UK representative, but had a couple of big groupings, in London and Sheffield. When Mike and I separately moved to Sheffield in 2003, joining Carey, Ben, Simon, Podge, Stocky and many others, we already had a friendship group deeply involved in the music we loved.
One drunken evening, we were talking enviously about the positive inclusivity in the hardcore scene (particularly in rival Yorkshire city Leeds), and the fact that there was nothing like their gig or zine culture in our beloved genres. An idea was born, that we would create a paper zine, arranging a meeting in the Dove & Rainbow to flesh the idea out. About 20 people turned up, deliberating and debating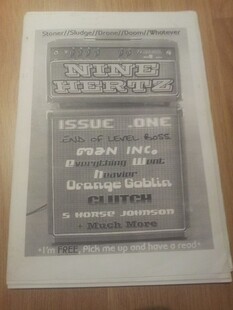 all day long. By the end, we had a plan, and a name; Slomo (once of The Mirimar Disaster) chipping in with the brilliant 'ninehertz' seemingly out of nowhere after we were faffing around with generic 'Stoner Rock UK' type monikers (as soon as he suggested we all instantly agreed).
Reviews and articles began to be written, and interviews conducted with Harry Armstrong amongst others. We gave away free advertising space to record labels we loved, with the idea that we'd then see if we could get paid for adverts for future issues that would partially finance the copying. (Linda Daniel, London stoner scene stalwart, largely financed the printing of the first issue - without her we'd never be here now.) A central ideology to the ninehertz paper zine was that it would always be free. The plan was to send it to stoner and doom gig promoters across the UK to give away to our target audience. We took it to our local printers, excited.
Sadly, we hit massive snags from then on - the printers were unhelpful and kept printing opposite pages upside down, and generally didn't give a shit. Rather than take it elsewhere we became deflated and the project died rather quickly. It was only after a further drunken conversation months later, between Ben, Carey, Amy and me, that the plan resurfaced, and we agreed on utilising Ben's coding skills to create a website. A few
months later it went online in test phase, then around October 2004 it went live.
The first incarnation of the site - the "green zine" was in retrospect quite difficult to read, but I loved it instantly and we managed to get people to flock to the site pretty quickly, the forum beginning to rack up hits, with recommendations of bands, idle chatter and discussions about the reviews regularly appearing. There weren't many alternatives around back then - in the UK none that I could name, the retiring in significance Kerrang! S/D board aside. Internationally stonerrock.com practically defined the scene for anyone online, but while it had British involvement in the forums, it was American through and through and didn't feel like a natural online home (and eventually closed anyway). Roadburn were moving their priorities away from their webzine towards their festivals, but not much else existed anywhere across the world.
ninehertz began to flourish astonishingly, beyond what ever we imagined - this creation of ours took on a life of its own as people we'd never met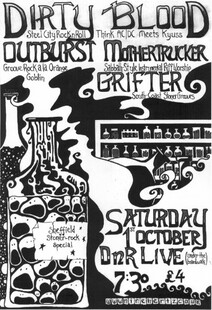 were submitting reviews; the bigger ninehertz got the less it relied on us to create the content, and the opinions expressed in reviews was wider spread. Our social media presence was taken up by a forum poster from the other side of the country (thank you Alex Breadmore). Forum posters from all around the UK started asking to promote gigs under the ninehertz banner - we agreed and supported it as much as we could through online promotion. Gigs were held in Southend-On-Sea, Oxford, London, Leicester, Cornwall, Bradford-On-Avon, Northampton, Bristol and elsewhere under the ninehertz name. Ben Aucott, now of Mage, designed our circular live logo that adorned numerous flyers. It was a source of incredible pride, that our name was synonymous with stoner rock (for that was our main focus back then) in this country to so many.
It was always our intention to put gigs on in Sheffield, but struggled with venues and local supports - after helping Truckfighters book their first (and eventually second) UK tour minus a Sheffield gig, things fell in place when local "supergroup" Dirty Blood appeared on the scene and a new venue gave us a couple of nights for free. We decided to book the bands who interacted with the forum and who we had been most impressed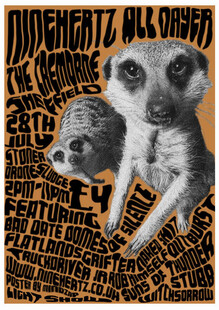 with through submissions for review and asked them, with little thought to locale or cost. We got pretty much exactly the bill we wanted - with Grifter, Mothertrucker and Outburst joining Dirty Blood for our first gig. We hooked up with the University rocksocs for cheaper entry and practically filled the large venue. It was a great success and the start of an ethos of putting on strong bills based on music we loved, not who we thought would get people through the door. We promoted every gig passionately, stood outside venues with paper flyers in the early hours and across the internet. We all agreed that we'd all pay into our own gigs, so that we were as honest as we could be in our aims to pay bands as much as we could, something I think we were largely successful with throughout.
We began to put great gigs on every month or two, and with our buddies in Team Tall promotions putting on post-metal gigs in the town for a couple of years we developed a great scene - with distinct but friendly groups of people attending each others gigs and bringing in many others. We put on international bands - Truckfighters, Dexter Jones' Circus Orchestra, Toner Low and Beehoover's first ever gig outside Germany - and our favourite bands from the UK and from our forum. The Cricketer's Arms was our normal haunt for the gigs we hosted, memories of chaotic nights in the upstairs room synonymous with ninehertz gigs to us to this day. In 2007 we put on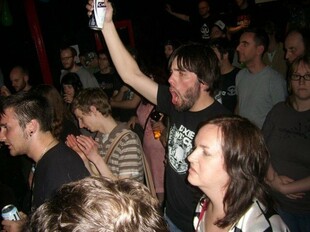 the first of four summer all dayers (the second being run by Jack Dickinson and hosted at the Underworld in London, and another run in conjunction with Team Tall) that featured amongst others, Witchsorrow, Stubb, Grifter, Gentlemans Pistols, Hey Colossus, End of Level Boss, Koresh, Chickenhawk, Flatlands, Suns of Thunder and Electric Mud Generator - drunken, happy times listening to great music, hot summer days catching up with friends made through the site.
We put out three compilations across the years of bands from our forum - gloriously strong albums, surprisingly eclectic in sound, featuring Chickenhawk, Battlewitch, IX, Aluna, Among the Missing, Stubb, Trippy Wicked and others, all now available as downloads on the site.
The site was revamped as Ben and Amy honed their coding craft. Another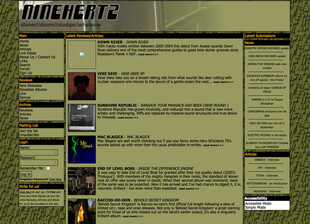 source of pride with the site is that it has always been wholly developed by Ben and Amy, not bought in blogs or attached forums. At our height we got millions of hits per year and new forum posts were numerous every time you logged in. Once online we agreed to never succumb to the financial lure of advertisements on the site, despite opportunites to do so, to keep it 100% neutral - tieing into our unbiased review principles - and as designed.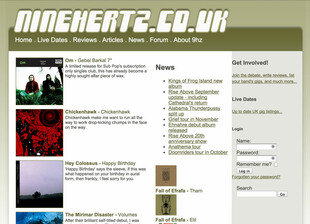 Things began to lag as life got in the way - the core grouping of 15 or so friends in Sheffield that made up our "gang" started to drift apart, with age, jobs, relationships and eventually babies and mortgages spreading priorities. Reviews lessened and forum users drifted away. It is of personal regret that I let this happen while editor - the busy forum, where you learned about new bands quicker than anywhere else was a vibrant, fun and familial internet source - but then Facebook was already changing the way we interact socially and it may not have lasted much longer anyway.
We talked about folding it a couple of years ago, but the five of us central to its running from the start (Ben, Amy, Carey, Mike and me) first tried to find a new editor to take it on. While doing this, Mike came to the realisation that he would be our man, keeping it in the family, and changes were made - the scope moving from stoner and doom to cover black metal, hardcore and noise as well, and a stronger work ethic with regards reviews being written - the last three years being our most productive in this regard.
And that gets us to where we are now. The scene is so different now - there is so much good doom around the UK (see my Doom Britannica article) that you don't have to dig so hard to find it, and there are numerous blogs or zines doing similar noble tasks of promotion - Sludgelord, The Sleeping Shaman and many others putting in sterling work. Yet I feel we still have our place - we know we offer honest reviews, if something is rubbish we will say so, not in thrall to PR companies, which isn't true of all review sites, and we uncover new, fantastic music regularly, hopefully continuing to further expose these to our readers. Our Live Dates page is a well of information about what is going on where at any one time.
For all the ups and downs, I think the five of us - and those closely linked to the site - feel a deep connection to ninehertz, and immense pride about what we have achieved and the journey we took. The memories we have created will never be forgotten and the friendships forged never broken. Thanks for sharing it with us (especially to those who have been there from the start, you know who you are).