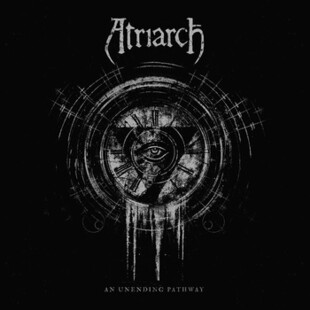 The successful melding of musical genres is arguably amongst the more creative walks of song-writing, alongside the establishment of a brand new style or indeed the acknowledgement and abjuration of any genre-specific boundaries. Even the most ham-fisted cross-style attempts protrude amongst ranks of more forthright artists; whether as a sore thumb or as a towering expression of personality, attention is drawn to the concept of artistic and often cultural coincidence.
Portland's generally white musical background is not particularly known for any one style, but the city's more notable acts share a lackadaisical approach to strict musical conventions. From Wipers' influentially forward-thinking and self-proclaimed unclassifiable approach to punk, to Agalloch's progressive and often seamless marriage of neo-folk and black metal, it is clear that the city is quite content with its historically (and geographically) midway identity, unofficially nominating Atriarch as its newest subterranean flag-bearer.
The four-piece commence and ultimately complete their primal outing under a darkened veil, reminiscent of the Herzog's marriage of bleak catacombs with Popol Vuh's reverent soundscapes portrayed in the opening frames of Phantom der Nacht. Singular, well-chosen notes ring out with discordant simplicity, connoting the same intimate sense of imbalance present in the early works of Sonic Youth. The immersive setting created by the cryptic and somewhat ceremonial cover allows for the introductory passages to serve as an opening sermon, but it is exactly because of this strong and immediate concept that Atriarch's fragmentally punk tidings force an immediate step backwards and place the listener in an evaluative state.
Acclimatisation takes more than the album's length, as the band's vision becomes steadily more apparent. Often favouring a primitive, tom-heavy approach to building tension, such as the monumental and aptly-named coda to Collapse, the relative sparseness of the cymbal crashes lends an immeasurable weight to the band, unearthing roots in soil heavily trodden by Neurosis. However, the reappearance of a surly punk drawl keeps the listener in a state closer to appraisal than absorption. The vision eventually triumphs as we recognise that these are a part of a bigger picture; the string-work is gloom-ridden and consistent and the structuring is as coherent and authentic as any of the aforementioned comparative artists.
With An Unending Pathway, Atriarch ultimately (but not immediately) prove that the musicians who are conscious of their influences can easily pay homage just as easily as they can simultaneously bolster their own vision. In doing so, they remind us that to be so artistically self-conscious can invoke a critical eye in even the most passive of audiences; to greet such heightened attention perhaps requires a stronger sense of creative commitment than most, regardless of whether the stylistic approach is madcap, anarchic, defiant or simply different.