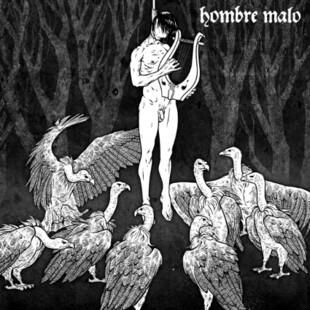 Made from members of, amongst others, Okkultokrati, a band I've championed to anyone who'll listen in the past, and with impressivley dark artwork, Hombre Malo's November released Persistent Murmurs of Words of Wrath provides an attractive proposition.
L'Etranger gets the ball rolling, stoner riffage welcoming you in. It's energy is hardcore based however, yet they manacle the rage for half the track, before finally unleashing in a blur of energy, upbeat riffs set within a doomier cloud. Impressive in its finale, but I wonder whether it would have been better starting like this, hitting the ground running. The following Crosses and Marching Feet similarly doesn't seem to kick on quite how I imagine it is going to.
This, I should admit, is largely due to my fondness for breakneck (in speed and philosophy) misanthropic hardcore of late, and I'm probably approaching this in the wrong manner. There's plenty to like in here, the fucked up Elena providing welcome discordant sludge chaos, and there's a strong seemingly agreeable political message most evident in the anti-homophobic subject matter, George Carlin samples and anti-religious soundbites.
The hardcore is a mix of Converge's less destructive moments and, beneath the doom grime, old school Black Flag et al patronage, while the sludgier elements carry with them an endearing stain smeared swagger. The press promo with the album seems keen to compare to their compatriots Kvelertak - unsurprisingly given their relative phenomenal recent success - but apart from the punkier moments (eg Reaching the Shore) I find this agreeably darker.
Heavy but could easily be heavier, hardcore pace over doom turgidness, yet could be faster, harsh but could be harsher. And while at first it feels like an album stuck in an identity crisis limbo, it actually deserves credit and attention for that very reason. It is still too inconsistent to prove essential, but more exciting than just a passing curio.