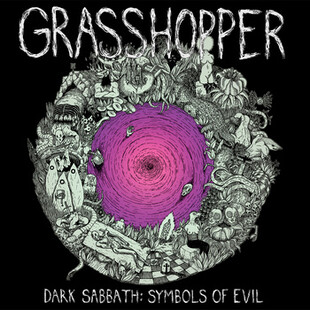 'Tonal Abstraction' is an interesting term, one that label Hausu Mountain chooses to describe New York trumpet and synth duo Grasshopper.
It's a term that suggests dissonance or chaos, but what these two avant-artists pursue is what we'd suggest is tonal poetry in the most eloquent of reading voices.
Dark Sabbath: Symbols of Evil creates a tension you can slice like butter, or for a darker metaphor, heads clean off. Their recent collaboration with The Nerdest website shows their predeliction for horror and the art of the soundtrack and this absolutely appears on this collection of four weighty pieces of work. Echoes of slowly building atmosphere and sounds that can jolt the senses appear to be what the pair (Jesse DeRosa and Josh Millrod) are seeking.
Unsettling sheets of raw synth create a tapestry over which the trumpet manipulations can play freely, visions of both shuffling hordes of zombies and dead spaceships floating in the darkness abound from the track Inverted Cross of Satanic Justice in particular. Parallels to our recent explorations of the similarly filmic Necro Deathmort are clear too, their lofty aims both being realised with real success.
The more spiky and acidic Bitches Sabbath creates an altogether more busy palette however, the rustling of leaves along with an overdriven buzzing and squelch combination of noises makes this perhaps a more caustic and horrifying track. Not disturbing, rather a sound that drags you in over its nine minutes.
Stylised trumpet skronks are cut up and littered over the closing Birth of Blood, reducing the breathy dying notes at times to glorious fading graces, at others using them to shock the listener back into consciousness.
This is the sound of the unlimited world of film, trickling down into gorgeously dark sound and it creates something truly beautiful.