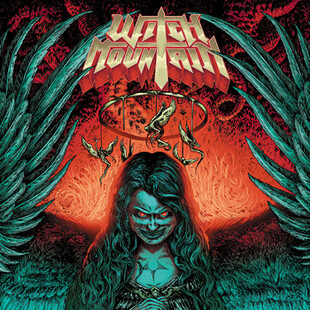 A good voice can go with anything and that's a fact, especially abundant with Witch Mountain.
This is very much a group effort though; as soaring and blues drenched as Uta Plotkin's vocals are, there's also the sublime skill of her three bandmates. They give her the solid blues doom crunch for her vocals to really take off and when they pull back to give her voice space to be lonely you can't help but marvel at the songwriting nous.
Their control equals that of the voice of Uta as the four effortlessly pilot their way through eight minutes plus of some of the classiest doom you'll ever hear. If you can imagine Joni Mitchell taking the mike for a doom metal band then you'll get on with Witch Mountain, but everyone gets a chance in the spotlight: Rob Wrong's guitars perfectly pitched between power in his chords and fuzz soloing, the tight rhythms of drummer Nathan Carson and low end of Charles Thomas, who have their own flair on the melancholic Your Corrupt Ways (Sour The Hymn)'s lament of dishonesty and false platitudes.
Final track The Shape Truth Takes is almost heart-breakingly tender finale with one final jam to see us out on. It's apt, as Mobile Of Angels is a swansong of sorts as Uta leaves amicably for pastures new, but this is one you'll hold on to in hope of a reunion tour.