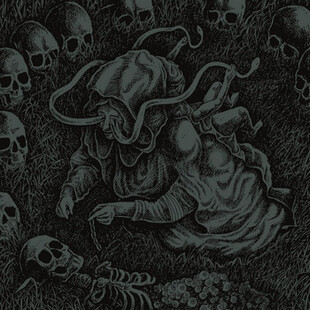 Odds and sods.
Clippings.
Archives.
This is a somewhat completist compendium of Australian sludge leviathans Whitehorse. When bands go the route of split singles, it's often the case that they are releasing them to get their music out fast and to spread their music as far as possible. This is to be commended, but for some collectors, tracking down obscure material is sometimes difficult.
Compilations like this are also a great way of seeing a snapshot of where a band might have been developmentally at the time and this is no different. The scratchy and primitive sludge of Untitled 2 from their Document 250407 contrasts massively when compared to the monolithic and more weighty punk-tinged Fierce Reprisal from their 2011 split with The Body.
2012 seemed like a busy year for the band, with three splits with Cross, Hot Graves and Batillus all represented here. Their sound is a bit more battery than drawn out chords, meaning there's a metallic and crusty edge to proceedings. The clattering, yet deathy start to No Passage from the Cross split on Blind Date Records never leaves, meaning it's a crushing, but repetitive groove to sink into.
You do get the feeling listening to these tracks in isolation that perhaps Whitehorse are more suited to full lengths than mere glimpses like this. Music of such speed and weight needs space to breathe and to limit such elephantine grooves to single tracks limits their potential when considered in context.
A pleasingly heavy collection, but disjointed too.