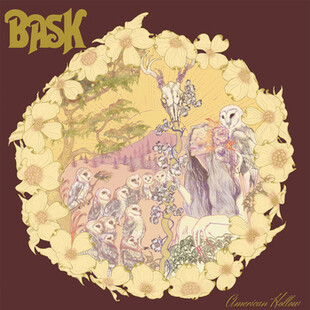 American Hollow opens as forcefully and immediate as it ever gets, fabricating a slight misconception of what is in store. The track in question, High Mountain Pass comes across as Torche inspired stoner rock, which, to my taste at least, is an entertaining niche.
As the album unfolds you are drip fed layers of subtlety and styles that slowly release into your consciousness. The title track is a good example - what could be summery psych rock is restrained by melancholic darker frayed edges, affording a mystique akin to their fellow North Carolinans Solar Halos, although with a smidgen more hope than their sorrow.
On Land of the Sky, and in truth underpinning throughout, there's a post rock (even post metal in its few heavier moments) approach to writing without being overly self indulgent and maintaining it's psychedelic heart, always applying a gentle touch that, when at its best creates perfect transitions in the track's journey, flowing effortlessly.
Shake the Soot From Your Boots meanders along a path from a bluesy opening to practically Yob-esque doomier fare. It only loses it way on A Man's Worth, which has me humming Skynyrd's Simple Man over the top and never really blossoms. Elsewhere Bask hint at an ability to create Black Mountain or Wooden Shjips style drug-pop whimsy but an admirable unwillingness to simplify to those tones.
A perfect Autumn record - airy, colourful and breezy but with darkening skies never far, American Hollow is a classy psychedelic record unafraid to snatch from other genres - post rock maturity, the odd passage of doom weightiness - that on the whole, especially after the preconceptions (Americana blues? stoner? radio friendly psych pop?) borne from track openings wither, flowers quite beautifully with repeated listens.