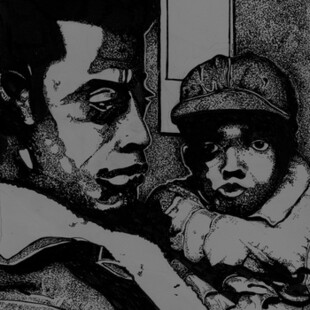 Right, nepotistic disclaimer. I asked the label for this record to review, I'm a fan, so you're getting a fan review here.
AOBW have been round long enough to know better. If you're reading a site like this you've seen them take skin from twenty paces in the back room of a pub outside the centre of some city or town. If not, just click on that track below and you'll know where you are. UK DIY band, on the floor. Somewhere between hardcore and metal, there're nods to the old and to the new.
They've got a really fuckin' excellent grip on how and why parts of modern life are crap. AOBW have taken hold of the object, had a real good look at it and made their minds up. It's worse, and it doesn't have to be like this.
The production is fierce, it's not what you'd classically call good, but who wants that. Everything's on top of everything else. The drumming is neck aching lesson in the balance of technical proficiency and abandon. What the strings lack in strict tightness just adds to the careening nature of Living Is For Giving. Tunes aren't been drawn out of the wood and steel here, they're physically forced out through a hole just slightly to small.
AOBW have done here what they've done many times before, released a fantastic record. They've always been a band that makes me want to kick shit over, and once again that chair is most definitely going out the window. You ain't going to make love to this record, but maybe you'll fuck good.