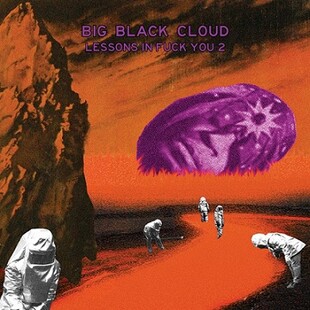 This is an odds and sods record from Portland's Big Black Cloud. Nothing wrong with that at all, just what it is. The bio says Lessons in Fuck You 2 is a collection from the demo sessions for their next record. They're from everywhere in the alt category here, from the DC/Dischord thing, The Cramps to jazz/noise influences. I ain't sure how much is aping and how much is just a band coming up with a similar solution to an age old problem, but who cares at this stage of modern life.
The one thing I do know is Big Black Cloud have a heavy MO on keeping heads rocking back and forth. I'm easily bored and quickly distracted myself, so this chop and change held me the whole way though. And if you don't like a part, they ain't gonna stick to it for long, some sections you want a lot more of, but that ain't the way they go. I think I'd quite enjoy going through their record collections.
I'm not sure how many times I'm going to come back to Lessons in Fuck You but if they come over here, I'll go and see them for sure. I'm pretty certain they'd take the top layer of skin in that format. A good, over the top record anyway. Big Black Cloud like kicking up a fuss, that's for sure.