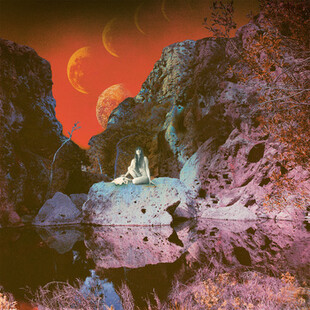 In sound, context can appear; in progression this context can change and in repetition it can blur. Say a word too many times and it can lose its meaning; its appearance as a piece of information becomes muddied and its familiarity becomes veiled. This loss of context is key to Earth's previous releases: your living room becomes the desert, and what appeared to be a small, familiar set of contours becomes a vast expanse, wherein the smallest nuance marks an important, contextual change in scenery.
Largely, the instrumentation of Primitive and Deadly succeeds in the game Carlson has been playing with so long. Variation in tone has become a key weapon for marking each new ridge, salt flat or oasis in his own personal desert. Once familiar with these surroundings, the space between the landmarks begins to blur with repetition, drowning the listener in heat haze. The sleeve shares a similarly saturated cover to Houses of the Holy, and the occasional borrowed solo from the age of its inspiration connotes the same passing sensation of sand being carried through the air by a tempest, without ever seeing a chance to settle.
Through the thickening air, a shadow appears. Drawing nearer by the hour, feelings of welcome are far away as it crosses the boundary between the salt flat and the ridge and comes sharply into focus. Wandering to and fro between the indistinct landmarks you have come to call your home, it leaves a trail of footprints in the sand. The prints reveal a path; a progression. They add context to the world and simultaneously destroy its agelessness, its charisma and its blurred familiarity.
With this focus and direction, the inclusion of the lyrical content allows for an instrument to take centre stage, with the variation between the male and female vocals creating a sense of equilibrium. Ultimately, it is down to the listener to decide whether or not to welcome this forced context into their world. As the word which had lost its shape and meaning creates a unique sensation, its reappearance in one's lexicon can destroy the appeal towards the unknown. Perhaps the footprints in the sand are too defined a path to follow, or perhaps the intrigue of their trajectory is too enticing to ignore.