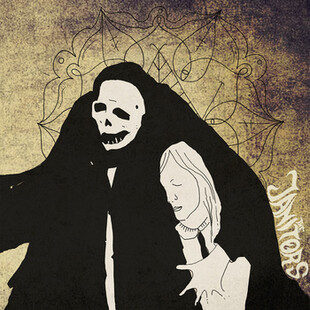 Released just in time for their recent appearance at the Liverpool International Festival of Psychedelia, The Janitors are truly under the influence of an other-worldly presence.
Limited to just 500 copies on black vinyl, this 12" explores a realm that takes in droning soundscapes, prog-heavy guitar missives and abstract shifts in mood.
Opener Greed burns with intensity, blasting your cortex with wave upon wave of distorted fuzz. Skip to the following Black Wheels however, and you are laid back, beach bum style, a Wooden Shjips vibe creeping in. Use of an insistent tambourine being ridden to hippy wall coverings territory, is no bad thing, it's all part of the journey.
Here They Come is more ritualistic and mysterious. Within just a few moments, The Janitors mark out their vision, you can almost imagine the projected visuals, flying through space one moment, watching time lapse films of flowers uncurling the next.
Their press insist their vision is one of equal rights for all, not a new idea of course, but one to consider thoughtfully when giving this entirely suitable record an in-depth listen.
Closing number There Will Be Blood follows a plodding but effective path, allowing time in the middle for dynamics to kick in with some aplomb. The multiple layers of guitars seeth with white-hot intensity while the reverb-soaked vocals take you to a higher plain.
Short but sweet, this release is one of the most engaging psyche records we've heard in a while.