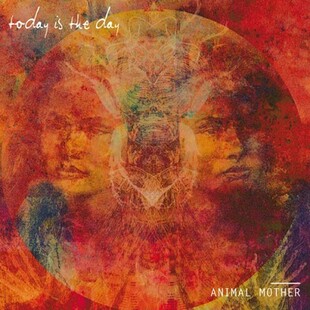 "Animal Mother means the embodiment of the prophetic gift of the shaman; it is the shaman's visionary power, which is able to penetrate the past and future."
High ideas indeed, but then Steve Austin has always, always followed his own path.
Indeed there's no equal to a man who has released albums about pure hatred and frustration (Temple of the Morning Star and In The Eyes of God), about loss and bleak hopelessness Sadness Will Prevail) and a love letter to guns (Kiss The Pig) is there?
On Animal Mother that spiritual fervour which shamans rattle themselves into is present, with Austin stating he wanted to push to extremes here, he seems to have captured that.
His trademark buzzing guitar tone is here as well as his dual vocals raining down hard, one a high pitched pig squeal, the other a low, guttural admonishment. To back this up, the drumming of Jeff Lohrber (Enabler, ex-Harlots) returns to great effect, the opening blasts to Discipline for example being particularly sandpaper rough and punishing.
It doesn't stop there however, strange digital noises pervade the brief GodCrutch making it all the more sinister and the stilted Divine Reward has an uncanny, strange feel to it during its even more brief 57 seconds.
The already previewed Masada sounds even more menacing in context here, its lurching rhythms and unnerving whispered sections underlining that after ten albums, Mr Austin still has some barely dealt-with issues. But you could argue his invectives are not simply hatred, rather a manifestation that we as a species could do better. Hypnosis through endless extreme metal is his way of drawing you in, but this is the most sense he's made in a long time.
Mystic almost as a contradiction, plays heavily on the spiritual side of hate 'You fucked up my mind' is repeated over and over, as if Austin is screaming at the gods.
Although it's predictably unhinged, this is perhaps the most focused and draining TITD albums in a long time. Harking back to past glories on one hand and exploring big issues with the other, it's another journey you'll have to try and make alone, absorbing the message over time. Withering and unforgiving, there seems to be no end to Austin's ichor, truly a work of twisted genius.