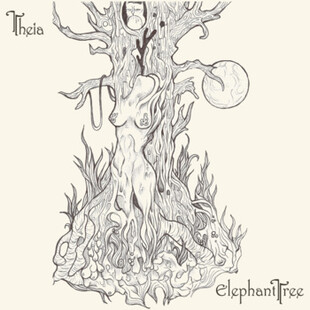 Elephant Tree instantly piqued the interest when they released the song Attack of the Altaica on to bandcamp earlier this year. I happened across the track by chance but instantly loved it, and further news that they recruited a full band, including Peter Holland from the brilliant Trippy Wicked, was welcome and pointed toward the release of this, their debut album.
After a quick intro, Attack... opens as the first song proper. It has been re-recorded, beefed up in the heavier moments, the dense mid-trip cloud lightened a touch, and with the full band involved. It transitions from heavy to blues magically, the understated vocal delivery helping build the hypnotic vibe that defines the song. The only negative is that I actually prefer the slacker cool of the original version, but that's probably just me.
In Suffering is the first new material to these ears, and I'm slightly taken back by the sound - in a making me sit up and beam way; it's the groove - big, glorious sludge groove - reminders of early Weedeater flash by, although as if mixed by Stefan Koglek, tempering it with psych expanse, creating a niche sound that sounds fantastic.
It becomes darker toward the albums tail, Lament bringing the doom blues, while The Sead dominated by a doom riff from the off bringing it all to a close in fine and grimy style. Theia is heavier than expected (perhaps aided by recording duties handled by Slabdragger's Sam Thredder) - I've seen them classed as a stoner rock band, but it only really applies in the aggregation of their blues rock base and the doom weight that emerges from it. A remarkable album, considering it's their debut release, with which Elephant Tree have established a little flagship of originality within the scene for themselves, and of enjoyment for all.