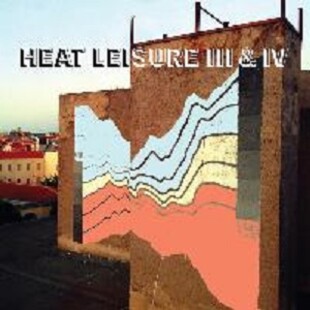 Heat Leisure is a clash of influences by what those in the know would term a supergroup. The Carney brothers from Pontiak, Greg Fox and Alexandra Drewchin of Guardian Alien, Steve Strohmeier of Beach House, and Robert J. Otten III.
The result is a psychedelic, self-assured vinyl release. The first side is a lengthy monologue that offers strange observations and gnomic, porch-sitting advice before breaking into a trippy, free form jam of sorts which the press hype from Thrill Jockey suggests is reminiscent of Can and Amon Duul, but could honestly have come from a recent Acid Mothers Temple record. All intricate and repetitive codas of percussion and blissed out guitar exploration it also somehow harks to the Pontiak sound, one of Americana and Southern-fried rock roots.
The name III & IV follows on from an initial short film/DVD release that came with an accompanying 7" and it has been suggested that from V onwards, the project could appear in any number of forms, live performance, by digital means or in sculpture. It's fantastic to see such prolific artists able to experiment in this way and this 12" is no exception.
IV is a more varied section of music. Crossing from free-jazz informed vocals to dream-like sections of tribal drum patterns, it weaves a careening, lackadaisical web in which you can float away with.
Although touring in Europe, Heat Leisure isn't coming to the UK just yet, but if you want something authentically psychedelic that doesn't conform to the bass/ drums/ vocals/ guitars mould for once, it's certain a great place to start. Full of artistic merit, it will be fascinating to follow this series of collaborations.