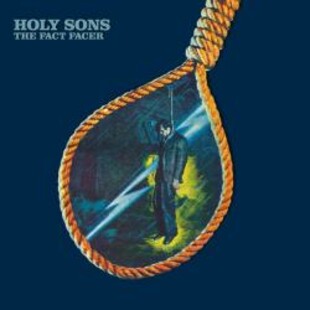 With The Fact Facer, a collection of recognisable sounds envelop the listener, but their combined identity begins as a mystery. Shortly after our journey begins, a whistling hum resonates behind the driving strums and ethereal voice of Emil Amos as if we are tuning a wireless; with its rise and fall, we remain unaware yet completely unthreatened as to what we might happen upon.
We are frequently transported with a hushed guitar tone as it wails behind some of the most emotive moments. Affectionately layered stories of dreams and freedom – some bearing a warning or a message – contrast with whatever insurmountable issues the hanged cover star must have felt. Far from despair, we find ourselves on a mountainous autumnal plateau, wandering through stark and textural earthbound beauty. This is a place familiar to those who first visited with Devin Townsend's Terria or, closer to home, Grails' The Burden of Hope.
Line Me Back Up and Long Days introduce a steadier beat, complete with the unmistakably intimate crackle of a record player. Whether intentional or otherwise, their combination recalls the atmosphere of some golden-era East Coast commentaries, whilst their thematically cohesive yet chameleonic nature connote the more modern mind-sets of J Dilla or Madvillain.
The saloon-bar notes of No Self Respect ring out in a particularly charismatic fashion, painting a town in which men bearing such personal failings may not be welcomed. The hanged man will not be found here either, as the subtle melodies which continue to underpin the album add a sense of kindness to an otherwise downbeat tendency. When the bass resonates at its deepest, we feel only warmth. As we eventually fall Back Down to the Tombs, these tones embrace the chorus in an intensely welcoming fashion.
The hanged man is not our story-teller. Danger and humiliation seem commonplace to Amos – these are feelings he appears comfortable with. As heartfelt and strained as the vocals which fortify the country twang of the titular track, he communicates to us just as touchingly with gentle thumps on the guitar body, which allow The Fact Facer to reach its barren, yet ultimately hopeful close.