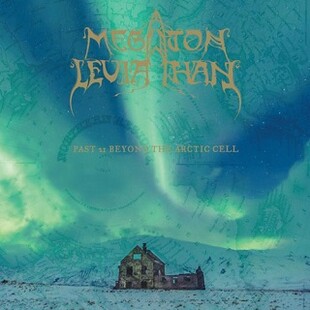 Megaton Leviathan is not a band in the traditional sense, first spawned in 2007 it' has been through several member changes and forms to arrive at the somewhat steady trio it is today. Having already taken this new album on the road as a one man show, heavy on visuals and theatricality, a drummer and live effects specialist have now transformed this hulking sound into a more rounded affair.
With Past 21 Beyond The Arctic Cell there's a sense of the arcane and a higher spiritual plain from the off. Heavy on traditional doom influences, but with an overarching drone landscape also present, the music of ML is painted large, we're talking windswept mountaintop vistas here, not quaint watercolours of summer flowers.
There's also the hint of romantic gothic metal in there too, strings recall My Dying Bride's more elegant work, but there's a European influence here, one that captures the spirituality and pomp you imagine main guitarist/vocalist Andrew James Costa Reuscher wanted to capture.
Eastern musical influences show up on the brooding The Foolish Man which hark back to some of similarly mystical duo OM's work. Vocals here are moaning, wordless invocations to unknown gods and deities and are haunting.
You can imagine the live show takes on a ritualistic bent, the photography supplied in the review material shows lots of smoke and elemental images projected.
If you want to bliss out for a while and look high into the skies for eye-opening truths, this could be a good soundtrack. Intriguing as well as powerful, ML have a vision here that's perfectly realised.