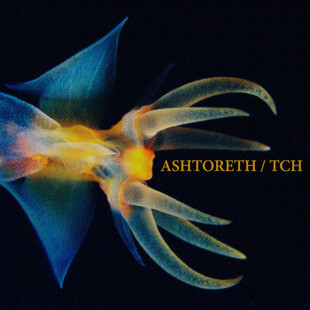 Collaboration records are sometimes a mixed bag, the traditional split 7" has seen a long life through all vinyl's dark days and has seen an upsurge in recent years, but working together on a track is sometimes rare.
How Timothy C Holehouse finds the time to record such a prolific output is anyone's guess but here he is with the hitherto unknown to ninehertz Ashtoreth creating a slow-paced and wonderful tapestry on one side of a 12". The collaborative title track moves from elegant and swirling drones to more folk-tinged elements with acoustic guitar and strings working their way in at comforting angles.
It works it's way through several gently linked passages, sounding like the ambient sounds you might encounter in a bustling coastal city at sundown, it has a wandering, undulating calm about it that is rare within the genre. With no great bursts in volume or dynamics, it's happy to wind on in a journeyman-like way.
Flip the record and you have a new track present from each artist, TCH's Acension recalls his early work as Tim Holehouse and his Codeine-like minimalism on the excellent Found Dead On The Shoreline. His vocals are gravelly and weary sounding, giving this quasi-spiritual track a resigned and distant feel. The lone acoustic guitar is left treading water at points, giving it a stark and bleached feel.
Ashtoreth however adopts a much more forceful approach, at least to begin with. Lone distorted guitar rings across the speakers like a less settled echo of early Sunn0))) records. Long, static waves hit one after the other for the majority of the track, before the remnants of acoustic guitar from the collaborative track join with strings to bring a calm to the storm. Overall the release is oceanic, but this last track sounds the most like the violence and peace the sea can bring out of the three tracks. His vocals in the last minute also add to the gravitas, serious and foreboding.
Coming in a limited edition of 300 LPs with some incredible artwork by Janus P. Lamaire, it's jellyfish and rusty harbour images as well as the excellent James Plotkin mastering job provide a depth to make this one of the most well thought-out projects we've seen in a while.