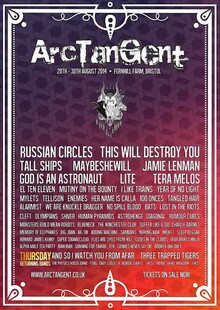 We've never been ones at ninehertz to enter into the arbitrary numbers game a la Buzzfeed and the like and that's not going to change, but with ArcTanGent Festival coming up, it's time for us to let you know what we think is worth checking out. Last year's inaugural edition of this new post rock-geared festival (we refuse to use the term math rock) held at a farm near Bristol was simply incredible. With a line-up that matches, if not exceeds the quality of 2013, this year's festival is jam-packed with incredible bands. Here's a few tips.
Thursday
It's actually impossible to miss any of Thursday's program due to the fact every band is a returning artist from last year's lineup. No bad thing though as it includes some of the most exciting bands you'll ever hope to see at a festival full stop, let alone in one evening. The highlight for many will surely be Nordic Giants who will be bringing their vision to life it seems. Having wowed a good number of people last year with an elegant and dark set, we've seen them about four or five times since and every time has been a treat for the senses. Audio/visual stuff only goes so far, but when synched as perfectly as ND do it, you can't help but stand there agog. With a stage set apparently being constructed solely for them and with a new set rumoured to be in the offing, we cannot wait to see what's on offer.
Other highlights should be the million-notes-a-second And So I Watch You From Afar who look set to recapture the rapture of their sunset set last year. The crowd were screaming back the power chords last year, so it's likely this will happen again. The St. Pierre Snake Invasion are another not to miss, we did last year and were kicking ourselves once we saw them in a more intimate venue later in the year. Driving and frankly astounding, their heavy party-hard stylings will be a great start to the weekend.
Friday
This Will Destroy You this is a given, surely. Having just recorded one of their darkest and most creative albums yet, we're bursting to see their set to see which classics they pull out the bag and which new ones will get an airing. We've never seen a band burst into pure volume at such a flick of a switch before and it's been a while, believe!
Crippled Black Phoenix are proof to naysayers who say ATG might be a one-genre festival. Tinges of punk and folk make up this supergroup of sorts and their use of multiple vocalists means you'll not witness two songs that sound the same. Watch this if you've had enough of delay pedals halfway through the festivities, they'll throw a curveball you'll find soothing and mysterious, we promise.
Other highlights include the heavy and frankly unpredictable Bats who we can't wait to see tearing up the Yokhai stage, the twiddly wonder of El Ten Eleven and the considered post rock majesty of Flies Are Spies From Hell who we've wanted to catch in a live setting for a long time. If you've got a penchant for psychedelic riff-filled stuff too, Diagonal are an obvious choice and you'll catch us at the front with a craft beer, eyes closed, drifting off to planet ArcTanGent.
Saturday
So much choice here too! If you've never seen the wonderful God Is An Astronaut then make sure you are at the Arc stage to see these old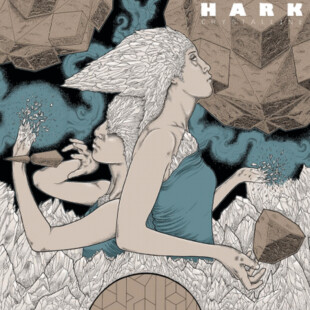 masters kill it. If you needed a manual on how to keep instrumental post rock interesting for more than a decade, then these guys would be the ones to write it. Truly unmissable.
We'd also say missing The Winchester Club would be pretty stupid too, formerly of the stoner legends Hangnail and the proggish juggernaut that was End of Level Boss, Harry Armstrong now plies his riffs via this beast. If you love riffs, blues, Kyuss, Sabbath or anything that grooves, you'll love this. Similarly, we'd advise anyone into their riff worship to make it their business to see Year of No Light who are the masters of slow motion amplifier worship. Truly atmospheric, they are fantastic at building pressure and presence.
Elsewhere, Hark will be blinding people with their unique, roaring trade and No Spill Blood will be deafening people with their keyboard and amp destruction. If you're into songs about cats and incredible drumming then you need to let Bear Makes Ninja part if your day too, their songs twist and turn through mathy sections to some pop punk informed choruses, loads if fun to watch.
We could go on forever here, but rest assured, these picks will dazzle you.